We shall swim out to that brooding reef in the sea and dive down through black abysses to Cyclopean and many-columned Y'ha-nthlei, and in that lair of the Deep Ones we shall dwell amidst wonder and glory for ever.



A great undersea metropolis located below Devil's Reef. A swirling, lightless, effervescent scent: the deepest marine notes with bergamot, eucalyptus and foamy ambergris.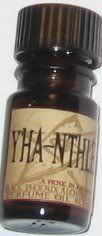 In the bottle
Smells clean and fresh with just a tad of sweet warm ambergris.
On
Soft, musky Ambergris. I have Beth's Ambergris Bouquet single note and I LOVE that smell. It's lovely in this blend.
30 minutes
Doesn't change much.
Throw:
a bit only
Scent category:
Marine/Animalistic
Summary
This is a win for me. I love this and it's so wearable too. It reminds me of Skadi or Snow Angel et al.
Purchase again?
Yes.
1-5 rating
(5 being best)
4