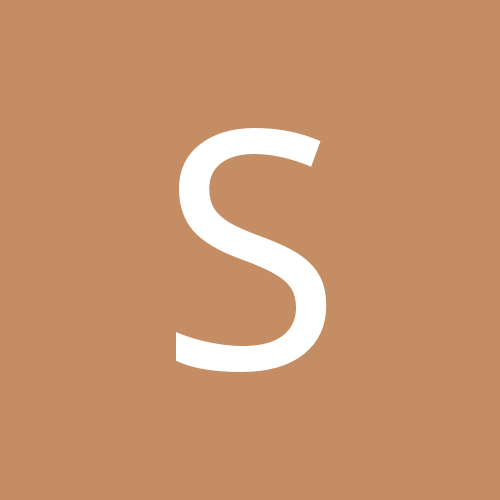 Content Count

692

Joined

Last visited
steffanina replied to RaeiNarcissus's topic in Yules

Pink Snowballs 2011- In Bottle: Sugary perfume, neither floral or foody but some blend that won't quite come near each. I see why some think this is close to Snow White! Wet: A light soapy candy. Dry: Is it possible for candy to be soapy? Is it possible for this to be not "eww" but "how interesting!" It is! The perception of the Snow White scent is still there but less; Snow White is one of those scents I've wanted so much to love but there's something cloying in it I can't get over, so, I'm glad that fades. This is not a scent that's thrilling me but I want to try it again. It really does give me the essence of "pink" under everything. Overall: Not completely sure; will try again.

Leather Phoenix- In Bottle: (The ingredients in this weren't what attracted me so much as the commemorative nature of this blend.) Sharp cologne-y smell, and leather. Wet: Not quite so sharp and eye-watering as I feared. The leather blooms. Dry: The leather is just too sickly-sweet for me. Sad! Overall: Not the sort of leather blend I can wear. *goes back to Whip and Dead Man's Hand for optimal leather scent*

Event Horizon- In Bottle: Strong, perfume-y but not sharp. Wet: A dark, but not sharp, perfume. I had thought this would be musky but it's not; it's quite heavy, though. Sweetness is coming out. Dry: Dark and sweet but not too sweet. Not a dry scent. Overall: Not the kind of thing I usually wear but interesting! I may want to try this again in the future.

steffanina replied to UltraViolet's topic in Yules

Sugar Cookie 2011- In Bottle: Sugar Cookie 2004 has for years been my favorite BPAL scent, no lie. This smells like the 2004 version: like sugar cookie dough with that nutmeg tang. Oh, joy. Wet: Yes, I think this is every bit the 2004 version. Rich raw cookie dough with nutmeg. Dry: Delightful raw cookie dough, how I love you. Overall: Identical, as far as I can tell, to Sugar Cookie 2004. This DELIGHTS me.

French Love- In Bottle: Indefinable! Sweet, and somehow nostalgic--I get this whiff of a gift shop I used to go to in my childhood... Wet: Fruity-honey sweet. Has that Dragon's Blood type of base in it. Dry: Very sweet; aggressively sweet and bright, with a little...whiff of something like civet-y reek underneath it Overall: Not for me.

Anubis- In Bottle: Resin, floral, wine, sweetness. Wet: Honey-sweet, a little floral. Dry: Very sweet; the resin is not medicinal at all. Overall: A little too resinous for me to want it as a wearer.

The Coil- In Bottle: A little sharp, a little minty. Something in it reminds me of Velvet Nudie. Wet: Lemony flowers. Not lemon itself, but...lemony florals. Still a little minty. Dry: Mintiness dominates the drydown, but not an agressive mintiness. There's still that lemony floral scent. That's about all it does for me; it's not a remarkable scent for me, but it's not unpleasing. Overall: Not for me on first try, but interesting.

Jerusalem Cherry Infused Honey- In Bottle: Honey and pine. Wet: Almost mentholated pine, with honey underneath. Dry: Pine and menthol are gone within minutes. Honey with a very light floral undertone all the way through. Not a foodie honey scent but a light and sweet one. Overall: Pretty light honey scent.

Maenad- In Bottle: Strong, eye-watering floral. Wet: Not quite so eye-watering. Floral with a strawberry undertone. Dry: The berry scent is stronger, but a little cloying with the florals. This doesn't work for me, pity. Overall: Too cloying and floral for me.

Bread-and-Butterfly- In Bottle: Sugar, toasted; if I go back for a second and a third and a fourth sniff, I can't smell the sugar any longer and something ever so lightly floral-fragrant appears. Wet: Light sugar with tea; the tea has a lemony hint but just a hint. Dry: Sweet and very lightly creamy, with that floral-tea hint. Not at all acrid or "perfumey" even though it has that floral hint. Delicate, and sweet and very nice! I wish that toasted sugar remained the strongest note but it's still nice. This doesn't seem very long-lasting but I like it. Overall: I'm so glad I tried this! I'm sure I'll wear it.

Aperotos Eros- In Bottle: This is one of those scents I'm reluctant to put on my body, because it has strong notes I don't usually like to wear. Benzoin just smells like medicine to me. I feel like I smell nag champa even if that isn't listed. I think I'm going to try it on my ankle instead of my wrist. Wet: Faint. (Good thing I can get my ankle to my nose.) I smell sweetness with the benzoin sweetness dominating. And I still get nag champa; maybe that's the "Indian musk." Dry: Hugely long-lasting, and it still reminds me more of nag champa than anything else. It's a perfectly nice scent but it's just too much for me. Overall: Not one I will want to wear.

steffanina replied to thekittenkat's topic in Lupercalia

White Chocolate, Black Raspberry, and Apricot Cordial Truffle- In Bottle: Alcoholic floral fruits. Delicious! Wet: Black raspberry fights for dominance. It reminds me of those great jellied raspberry candies. I don't think I smell the chocolate but it might be fleshing out the base of the scent. Dry: Sweet and fruit-floral, with that rich alcoholic note. I think it's primarily a Black Raspberry Cordial scent, but I have no problem with that, it's delicious. (And it's nothing like cherry cough syrup!) Overall: Sweet fruity foody scent; I like a lot!

steffanina replied to abejita's topic in Lupercalia

Dark Chocolate, Whiskey, and Cognac Truffle- In Bottle: Woo, intense whiskey! Smells a lot like the whiskey of Mad Sweeney (which I love). Wet: Sweet whiskey with a candy undertone. Wow, this is good. Dry: *sniff sniff* Hellooooo? Where did you go? Wow, all I've got is this little hint of dry something, like the inside of a wood barrel, but that's all that's left. I kind of like this "inside of a wood barrel" residue, but it's so very faint. Overall: A fast fader on me but quite delicious for what it gives.

steffanina replied to thekittenkat's topic in Lupercalia

White Chocolate, Strawberry, and White Pepper Truffle: In Bottle: I can smell the softness of the white chocolate, and the strawberry is nicely sweet and subdued. No pepper yet. Wet: Slightly floral under the strawberries, a little fragrant like perfume. White chocolate is almost undetectable. Dry: Like a sweet floral strawberry; the white chocolate is subtle if it's there at all. Not as candy-like as I'd wanted, but very nice! I never did get the white pepper in any strength I would recognize, but I bet it gave it some of this floral richness. Overall: A creative strawberry scent!

steffanina replied to TheIceMaiden's topic in Lupercalia

Milk Chocolate and Matcha Green Tea Ganache Truffle: In Bottle: Oh, dear, something musty and unpleasant. A hint of ginger, too, perhaps? Wet: Not so much musty scent, and the ginger is stronger. Wait, I think it's lemon-lime that's rising up, rather than ginger. No chocolate at all. Dry: Lemon-lime, with a little tea suggestion under it to temper it all. Darn, I had such hopes for this one; I love matcha candies. Overall: Doesn't do what I'd hoped on me. Oh, well.