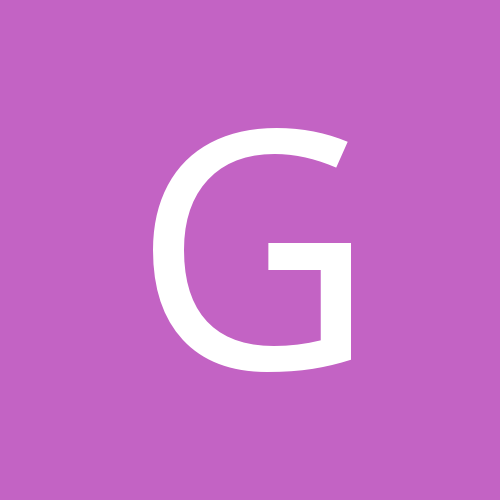 Content Count

941

Joined

Last visited
Everything posted by Glambie
Glambie replied to VioletChaos's topic in Lupercalia

This is breathtaking!! So happy I risked an unsniffed bottle purchase. There was a drink at a coffee shop that I frequented in graduate school, and it was carbonated water with almond syrup and perhaps another type of fruit syrup. This is so beautifully reminiscent of that soda and brings back wonderful memories of preparing for exams on a warm spring day, outside on the cafe patio in the sunshine. I will treasure my bottle.

Glambie replied to VioletChaos's topic in Lupercalia

This, to me, is so very much like Clockwork Couture Female...which is in my top 10. Seriously, they are almost identical. It's a classy, luxurious scent with a rebellious edge. Instant love. ❤️

Absolutely breathtaking. Fruity, creamy, and joyful! It screams PINK and feminine, which is not usually what I go for. However, it is so flawless and beautifully blended...you must grab a bottle immediately! If not sooner... ❤️

I'm just now trying this after letting it settle for several months. I may be in the minority here, but this is absolutely breathtaking! I am a huge fan of Lyonesse, and this has that same beautiful creamy, sweet aquatic quality that makes me think of lying by the ocean, bathed in soft sunlight with salty, wind-blown sea hair. It also doesn't hurt that Beth personally gave this bottle to me after I noticed they undercharged me at Dragon*Con. lol It's a surprising hit for me and a sentimental treasure. If you love Lyonesse, you MUST track this down!!

I have collected each and every one of the Peaches since I go to Dragoncon every year. This is by far the loveliest. I am just now getting around to truly testing all these beautiful scents, and I wish I had known how hoarde-worthy this one would be! This is Joyful Moon shining over a a rose garden, with a cold glass of red Sangria to me. It is now in my top 5 bpal scents of all-time. Soft, creamy, and delicate. I can't wait to wear it this Spring! (And seriously, if you love Joyful Moon, hunt this one down!!)

As the previous reviewers stated, this is a beautifully balanced, light, sweet blend that's perfect for a late summer afternoon. I can't necessarily pick out the individual notes, particularly the honey and tea, but they seem to simply enhance the gorgeous peach note that takes center stage. I'm completely in love!!

GORGEOUS, resinous, sultry addition to the peach pit set. It's definitely less sweet than the others and demonstrates how a fruit note can work when least expected. If you love darker, incense-y blends, this is the peach scent to go for.

This was the only peach scent from D*C that didn't love my skin. It almost smelled *too* clean and lacks some of the rich depth of the other peace pits. However, I love my complete set and am not *ever* swapping or selling this! The labels are just too adorable. Perhaps it will age nicely.

I have worn this gorgeous scent for the past three days. It's probably the closest of all 5 peach scents to the White Peach and Incense hair gloss. On me, it's luscious, juicy peach with a little bit of rose. It fades fast, though, so slathering is required. Wish I had gotten a backup.

I second the rec for Tiki Princess!! Can't get enough of it during the summer! A frothy, cold coconut perfume, pure and sweet, with gentle wafts of plumeria, pikake, and ala ala wai nui.

I took a chance on this in a swap because I love The Last Rose of Summer so much, and they sounded quite similar in their descriptions. I'm SO glad I risked it! It should be known that I'm generally not a fan of rose in perfume, with the exception of those grounded by incense notes (i.e. frankincense). Very often bpal's rose note turns almost to a latex smell on me, but this one is absolutely GORGEOUS and very much evocative of its inspiration. And personally, I imagine that this is what Christine Daae would smell like as she gets whisked away to the Phantom's lair, with candles burning all around her, feeling entranced by his magnetism. I plan to wear it around the end of September and through October, as it truly captures an eerie, Gothic, haunting feel. But I have to admit, lately I've been wearing it to bed almost every night, as it's incredibly soothing and romantic!

I really didn't expect to like this, as the reviews are all over the place! Lemon, absinthe, and mint aren't great notes for me (I tend toward darker incense blends), but a sweet forumite frimped this to me in a recent package. I was immediately smitten and kept huffing my wrists ALL day. I can see the comparison to Lemon-Scented Sticky Bat, but that one was all dish soap to me. This is creamy, sweet, but refreshing for a hot summer day. And whereas Bones Trombone was tooth-achingly sweet on me, this one is extremely lovely and wearable. It's probably the only "fresh" scent in my collection, but I'm glad I hunted down a bottle!

My heavy-rotation summer scents have been: Tiki Princess Obatala Joyful Moon Pirate Moon Cheshire Moon Great Vampire Bat Although I still bust out my heavier scents like Snake Oil, which just feels super sultry!

I am shocked at how much I like this! I typically avoid anything masculine or reminiscent of men's cologne like the plague. And while this one does start off quite masculine, the drydown is stunning! It's soft, slightly sweet, and ethereal, and probably the first scent with leather that I can actually wear. Since it is fairly unisex, add me to the list of gals who want to try it on their SO!! I'm not sure I'll wear it too frequently, but as a huge fan of Labyrinth, I love having it as part of my collection!

Thank you to my amazing fairy!! I was not expecting to connect so well to this scent, after reading some of the reviews. However, I was pleasantly surprised at how it has morphed on my skin! Immediately, it's a blast of dark chocolate, followed by the patchouli. It is indeed pretty masculine at this point, but after 5 minutes or so, the scent begins to unfold into something much more complex... I am now left with an impression of soft patchouli, cacoa, and something very sweet and fruity(??), and I am IN LOVE!! I have no idea where the fruity note is coming from, but on me, this is as far from masculine as you can get. It's dark, sultry, and definitely not something I would wear to class or work. This is better saved for a night when you bust out your sexiest black dress, red lipstick, and stilettos. And while this kind of night doesn't present itself often in my life, I think I'll hang on to my EM for the occasion.

Thank you to my amazingly wonderful fairy!! First off, these labels are adorable!! Honestly, I think I would have a hard time parting with my two bottles for that reason alone. Now, onto the review... Interestingly, my Vespertilio Proterus arrived the exact same day as my Diary of a Lovestruck Teenage Cannibal. I must be going through a ginger/cream thing right now. So comparing them side-by-side, they are almost identical on my skin. The only differences is that Cannibal is slightly more fizzy/sparkly, like an orange cream soda, while VP is more like an orange creamsicle (no fizz). They are both absolutley delicious, and while I'm not sure I need two that are so similar, I really love them both!! I imaging VP will be a beautiful, creamy scent to wear during a scorching hot summer. I personally think it's quite foody, as the vanilla cream is pretty heavy, but it never comes close to bordering on cloying or sickly sweet. I am so grateful to have this!!! :love!:

OMG, sharkdiver!! You were the most beautiful bride ever!! (And hubby's quite a looker too! ) I wish I had known about BPAL before my wedding, as it would have been amazing to select the perfect oil. And Snow White was a great choice for you...your picture actually reminded me of Snow White!

I was lucky enough to receive this baby in a swap, and I was so excited to try it! I'm a huge fan of Smut, and I kept reading reviews stating that this is perfect for us Smutty Bpalers. I always loved the berry goodness of Bewitched but could never commit to a full bottle, simply because it was too much fruit and not enough complexity. THIS lovely scent, however, is like a darker, raunchier, and more wearable version of Bewitched. In fact, I feel as if it's the emotionally complex, sexy Goth sister of Bewitched, and I think I'll hold onto her for awhile.

Glambie replied to jj_j's topic in Yules

Review for the 2008 version: I bought this scent because one of my dear friends always refers to me as "Snow White," which brings me so much joy. So I kinda had to get a bottle, even unsniffed. Wow...so this one is definitely a kooky bird! Like others have indicated, I can't quite figure out if I love it or hate it! But it's compelling, and I slathered myself in it twice today. Hmmm... I totally understand why some people get a play-dough vibe, but perhaps that image comes to mind because of all the previous reviews. There certainly is a strange, artificial note underlying all the prettiness, but it doesn't ruin the scent for me. So on to the good news: I happened to be wearing today when I was walking through cool misty air, at twilight, after a downpour. Snow White was somewhat perfect for the occasion, as it has a delicate, sparkling, ethereal quality to it. Perhaps this could be my rainy day scent? However, I did ask hubby his opinion, and I was a bit surprised to hear that it reminded him of "dirt." Granted, he's been on the lookout (sniffout??) for this note after smelling zombi, so maybe he's hypersensitive to earthiness! He said he liked it, but I'm not sure I want him thinking I smell dirty. (Well, Smut fits the bill for that scent, but I'll pass on the literally dirty association. ) So I guess I'll be saving this baby up for rainy days when the guy is out of town!

I took a chance on this bottle, ordering it unsniffed during a swap for another bottle. Egadz!! I'm SO glad I did!! This is an absolutely gorgeous spring/summer scent that's feminine, uplifting, and subtle. The fruity and floral notes are balanced by the vanilla cream, so everything is blended seamlessly into a somewhat mood-altering scent; you can't not be happy when wearing this! For me, this was a mix between Mouse's Long and Sad Tale and The Vine, so if you love either of those two, you're in for a real treat! I may need to hunt down a backup ASAP!

My latest Springtime discoveries are Agape (Seriously, where have you been all my life?? I may have to hunt down a backup for this awesomeness!) and Pirate Moon. They are both light, subtly sweet, and feminine but with an edge that makes them stand out. Agape is fruit and creme without going over-the-top on either, and Pirate Moon is just like walking along the beach at sunrise. There's nothing better than falling head-over-heels in love with one of Beth's masterpieces!!!

I second Circaea's rec for Lick It Like You Mean It, if you want to have a nice balance of sweet and mint. I just received a bottle from a swap, and it is absolutely gorgeous. Supposedly, some of the Lick Its have been in-your-face mint, but this one is lovely. And this is coming from another Crocodile fan!!

What was the reaction/issue, exactly? It is possible that you got a variant or even a mislabeled bottle, but it's hard to speculate without knowing whether you're thinking something like "Hmmm, not as much coconut as I was expecting" or more along the lines of "Why do I smell vetiver when there isn't supposed to be vetiver here?!?" Also, I haven't tried BR yet, but... ambergris seems to be one of those notes that are really problematic for some people. For me, I don't really *notice* it as a scent, but anything that has ambergris in it disappears really quickly from my skin! Have you done well with it in other blends? Hey, there! Thanks for the reply! Now I realize that I should've been more specific about the issue! Really, it was more of a "YUCK!" response, both when sniffing it out of the bottle and after the wet/drydown phases. It was almost like the smell of my pursue being soaked in beer after a wild concert. Not at ALL like the description! I thought I liked ambergris, since it's in my HG oil (Lyonesse) and another one that I can't remember. Hmmm...no telling what the issue was! Hope that extra info helps!

Hey, all! I have a quick question about one of the Lupers. I ordered a bottle of Body, Remember (unsniffed) when it first came out, as all the notes generally work well on me. But sadly, when I smelled it in the bottle and then tested it, it smelled nothing like what I expected. Since I'm new to BPAL, I thought maybe it was my skin chemistry that changed it, but the sweetheart that I swapped with had the same reaction (unfortunately). The Lupers will be coming down soon, and I'm really thinking about trying it again based on the glowing reviews it's received. But being on a student budget, that's sort of a tricky situation. Has anyone else had this issue with BR? And do you think I should risk it? I don't know how common batch variations are, but I desperately want that beautiful oil that everyone else is getting! Thanks!!

Glambie replied to Nymph87's topic in BPAL FAQs

That was my first thought, too! But then I tried the scent and immediately got over any sadness. It's sooooooooo beautiful!