This is Halloween Swap 2022 Questionnaire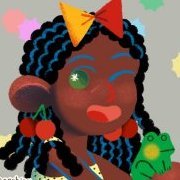 Would you prefer a fall-themed package or a Halloween-themed package?
Do you celebrate any fall holidays? Please feel free to place as much info/context as you wish:
Are there certain things for Halloween -- or your general love of fall -- that you would particularly appreciate receiving?
Samhain, witchy themed things are totally cool
If you celebrate Halloween, are you dressing up? 
I'm planning on being a clown this year. A Big Comfy Couch clown rather than It clown.
*Would you like costume additions or accessories?
Are you part of any Halloween-y fandoms, and if so, what are they? (ie. The Nightmare Before Christmas)
I love horror books and movies! Steven King and Wes Craven are my favorites.
Allergies, dietary, and lifestyle restrictions:
Sadly allergic to apples (terrible for this time of year)
Do you (or anyone who might come in contact or view of the contents of these glorious packages) have any kind of phobia, trigger, or squick-out which is likely to arise in fall or Halloween-themed goodies (please address concerns over spiders, ghosts, severed hands, etc., here)?
All good here, scares are welcome
Is there anything (that you know of) which it is illegal to mail to you, or that might cause Customs to become upset and hang on to your package?
Sour candy, ginger, peanut butter, spicy
Do you like coffee and/or tea?
Favorite snacks and treats:
Favorite scents(both specific notes and perfume blends):
love



: rose, carnation, sugar, vanilla, tea, honey, milk, ozone



, soil, coffee



l

ike:

 

lavender, musk (all), ambergris, cream, mint, coconut, spices, pumpkin
dislike:

 

pine

, cedar, fir, chocolate

picky:

 patchuli

, florals, fruits, leather, rum/booze, incense, smoke, aquatic
Yes, especially sparkly/holographic black
Favorite bath and body products?
Would you rather not receive any clothing? (If so, skip the applicable questions below or note exceptions… ie. you're happy to receive socks but not shoes.)
Green, Pink, Orange, Black, Purple, Blue
Would you appreciate any seasonal decorations or art for your home? 
*Are there any restrictions (no naked people, no breakables, that kind of thing)?
Naked people are welcome and encouraged
What's your fall/Halloween style? (ie. vintage Halloween, cute Halloween, all about horror, etc.)
My house is year round halloween
What are some of your hobbies?
I'm a fiber artist and an actor
Would you like any supplies for your hobbies?
I'll never say no to yarn or roving
Are there any crafts or hobbies you would like to try out, but haven't yet?
If I add any more crafts my house will explode lol
Are there any Halloween-y games (tabletop or video game) you have been wanting?
Would you like to receive books?
what kind of books/format?
Paperback/hardcover is cool
Are there any other members of your household (significant other, furbabies, small, adorable humanoids, any other awesome person you consider part of your world) who might appreciate a little bit of fall-themed gifting?
I have an Australian Cattle Dog named Sunny and a fluffy grey cat named Beatrice. I really love A Series of Unfortunate Events lol
Are you okay with having some individual items shipped to your directly? (ie. to make shipping less expensive for an international swap or to make sure something is received from a shop before the swap deadline)
Are you comfortable receiving good/like new condition used items?
Yes! I always appreciate a secondhand item
How about handmade items?
What are a few inexpensive things that you always appreciate receiving?
Halloween candy and stickers are always fun
Is there anything you'd rather not receive?
I really don't need makeup or socks
Please place your wishlists and moodboards here (or link them in your sig., to give your swapper great ideas of what you like):
 

I

'll add to my signature! My instagram (also in my sig) is all of my fiber arts which gives a good sense of what I like
Is there anything else you would like to say to your swapper?
This is my first swap and I have no 

expectations I'm just excited participate!