2021 Summer Vacation Swap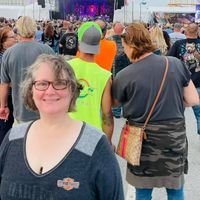 Entry posted by deazinn ·
184 views
Are you interested in any games?  We play cribbage, but we have played Cards Against Humanity and would love a deck of our own!  No playing cards though, we have PLENTY of those! 
If you mentioned you liked bracelets or earrings to wear....
Bracelets:  Do you have preferences for metal color/type or would you prefer hemp/leather?   beaded?  bangles?   Wrist size?  I actually have quite a bit of jewelry....the only things I'm really looking for is a good silver link bracelet for charms, and charms themselves.  I would love to have a dragon charm and a zebra charm and a griffin charm in particular 
Earrings:  Colors / Metal Type / Style / Piercing size?  I have two piercings in the left ear and three in my right and will be getting my daith piercings soon.  I can wear all types of metal.  I'm really into huggy type hoops right now, and really long threaders
Say you like or collect travel mugs:   do you want them to have a city or state name?  Ceramic, stainless, or is plastic ok?   Size preference?  (12oz, 14oz, etc.)  No glass please, I am the superklutz.  I prefer stainless over plastic, but will do plastic.  My only current travel mug is my much loved Starbucks Anniversary mug, and it's plastic.  I really like the 24 oz studded Starbucks tumblers but they can be hard to find. 
Are you interested in some travel size tastes of homemade liqueur?  Currently I have rose petal, lavender vanilla bean, and plum.   No thank you 
If someone were to make or get you a fun beach hat, what size is your noggin?  Well, I wear a size small helmet?  So.....smallish adult woman size?  Ha!  My head has a 22" circumference!  I knew I had that info somewhere!  
Do your pets like treats?   Yes, she does; mainly cookie type treats, and bouncy balls.  She's a pipsqueak at 21 lbs, but a tough chewer! 
Do you have fiber preferences or allergies for knitted/crocheted items?   Anything that is not scratchy works for me!  I'm very tactile 
Are you BPAL only as far as perfume is concerned?   Nope!  My signature scent is actually Very Irresistible by Givenchy; I also wear V Secret's original formulation of Pink, Clinique's Happy Heart, and Toyko Milk's Tainted Love.  
How do you feel about used books?  I will love and cherish them! 
I know we talked about good/not-good scent notes in the original questionnaire. But imagine now, if you have to pick ONE note to declare as your favorite/best/etc. What is the ONE?  
To wear?  Or to smell?  Ugh!  I don't know!!  If my travel agent seriously needs this answered poke me.