2021 13 NIghts of Halloween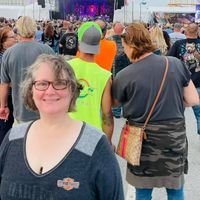 Entry posted by deazinn ·
126 views
Do you celebrate any fall holidays? Please feel free to place as much info/context as you wish:  Halloween and Thanksgiving
Are there certain things for these holidays--or your general love of fall-- that you would particularly appreciate receiving?  Nope, so go for it!! 
If you celebrate Halloween, are you dressing up?   Not sure yet??  
*What as?  No idea 
*Would you like costume additions or accessories?  Sure! 
Would you like seasonal decorations?  Yes, but I'm trying to thin out my decorations to what I will actually use.  I do need more fall stuff than Halloween, and I love pumpkins like the velvet ones, and leaves 
Allergies, dietary, and lifestyle restrictions:
Do you have any allergies, intolerances, or lifestyle restrictions/requirements?  Yes, I am gluten free and prediabetic.  The gluten free is a hard and fast rule.  The prediabetic I am trying to control through diet.  I'm allergic to cigarette smoke, cat dander, molds, dust mites, blue cheese and mushrooms.  Goodies listed on my Amazon wishlists are still doable, I just am doing them in small amounts! 
Do you (or anyone who might come in contact or view of the contents of these glorious packages) have any kind of phobia, trigger, or squick-out which is likely to arise in fall or Halloween-themed goodies (please address concerns over spiders, ghosts, severed hands, etc., here)?  No spiders please.  Iz afraid of them.  
Is there anything (that you know of) which it is illegal to mail to you, or that might cause Customs to become upset and hang on to your package?  Only if you get caught.  So far, so good! 
Favorite Flavors:  chocolate, honey, vanilla
Least Favorite Flavors:  licorace/anise flavors.  Bleargh!! 
Do you like coffee and/or tea?  Coffee I'm picky on, but I was send a chocolate/cinnamon/vanilla blend that I absolutely adore!  I don't drink much coffee, so a little goes a long way.  I drink tea a lot, but have a lot......so......
Favorite snacks and treats:  Chocolate, nuts especially almonds, brazil nuts, walnuts.....I adore fudge, esp chocolate fudge or plain peanut butter fudge 
Favorite scents(both specific notes and perfume blends):  Ambers, vanillas, soft musks, roses
Least Favorite Scents:  tobacco notes, anise, heavy patcholi 
Do you wear nail polish?  Yes, but I have a ton.  Can always use cuticle oil like Solar Oil though! 
Would you like makeup?  Um......no.  I have so much and really need to wear and use what I have.  However, if you have something you think I would love, or a brand is mentioned and I respond positive to it, feel free to send it to me.  
*If you would like makeup, what sorts would you prefer?  I'm kinda a high end girl when it comes to makeup....
*Any favorite makeup brands, colors?  Yeah.  I love the old, original Chanel Glossimers that are super hard to find, all colors, and I need a new MAC lip liner in Spice.  I'm also looking for a really good mascara that is healthy for your lashes, in black.  And, my favorite mascara in the whole world is Bourjois Clubbing in black.  I need one.  
*Any hated/not-preferred makeup brands, colors, or products (example: thanks to your sample box of choice, you hope never to see another black eyeliner as long as you live)?  Nope, not really, except I seem to be allergic to Cover Girl products. 
Favorite bath and body products?  Sugar scrubs, salt scrubs, the Post's Hair Glosses.   I have a ton of soap so I'm good there, but if you have any Post soap, I'll take it!! 
Personal clothing style:
Favorite Colors:  to wear, black, greys, army olive drab green, and all the colors of the autumn leaves 
Least Favorite Colors:  pretty much any shade of blue unless it skews turquoise or blue-purple. 
Do you like jewelry?   Oh yeah I do!! 
*If so, what sort?  Right now I'm loving strands of beads, I have a mourning strand of onxy and a strand of garnet that I wear a lot, both are long, the onyx is 54" and the garnet is 36" or so.  I have a traditional charm bracelet and would love a zebra charm for it.  I love earrings and wear them all the time.  Etsy has a ton of stuff to show you what I like 
*What sizes and/or lengths do you prefer?
Would you enjoy receiving wearables (shirts, socks, shoes, arm/legwarmers, hats,etc.)?  Yep
*Sizing on wearables:  I'm between a women's XL and 1X right now; in the Post tees, I like their largest women's size, cause I like them oversized.  I wear a Youth 4 in shoes, and socks as well.  I'm a solid medium in pants, 10-12. 
Here's my measurements for the rest: 
Measurements, so I don't forget:
feet
length - 9"
width around ball of foot - 9"
ankle - 9.5"
hand
from tip of longest finger to wrist - 6.25"
width without thumb - 7"
width with thumb - 8.25"
arm
wrist - 7"
wrist to elbow crease - 8"
widest part of arm - 11.5"
head
22" around
Home style:
Would you appreciate decoratives or art for your home?  Sure! 
*Are there any restrictions (no naked people, no breakables, that kind of thing)?  Nope! 
What sort of music do you like?  I have VERY eclectic taste in music, I love most of it!   Pink is one of my favorite artists, and I do have a list of music I want out in Amazon on one of my many wishlists there 
Are you okay with burned music CDs?  Yes please!!  
Do you have VHS/DVD/Blu-Ray...Betamax?  DVD and Blu Ray here.....and VHS! 
*does your player of choice have region restrictions?   Probably? 
Is there anywhere that you would like a giftcard or online credit for?  Always!!  Barnes and Noble, Goldsboro Books, Sock Dreams, Starbucks
Hi! What are your hobbies?  Knitting, reading, learning to sew 
Would you like any supplies for your hobbies?  Ha ha ha my husband would kill me!!  
Are there any crafts or hobbies you would like to try out, but haven't yet?  Not yet? 
Do you have gaming consoles, or play computer games?  Nope, but hubs is hoping to upgrade from PS4 to PS5 one of these days....
How about cosplay?  Nope, sorry!  Though one of these days I'm going to be knitting a Browncoat for myself, so.....
Or tabletop gaming? Nope
Would you like to receive books?  Yes please! 
*what kind of books/format?  Hardcover, softcover, ebook (both Nook - barnes and noble and Kindle - Amazon) are all fine, and used books are absolutely fine as long as they don't smell of smoke or mildew 
How about magazines?  Sure! 
PDFs and craft patterns?  Absolutely!! 
Are there any other members of your household (significant other, furbabies, small, adorable humanoids, any other awesome person you consider part of your world) who might appreciate a little bit of fall-themed gifting?  My mini Goldendoodle Bailey would love treats if you so feel inclined! 
Are you comfortable receiving good/like new condition used items?  Absolutely! 
How about handmade items?  Even better! 
What are five inexpensive things you always appreciate receiving?  Lip balm, socks, spices that are local to you, a postcard
Please place your wishlists and moodboards here (or link them in your sig., to give your swapper great ideas of what you like):  mine are linked in my signature 
Is there anything else you would like to say to your swapper?  I should be fairly easy to stalk, but poke Twi if you need anything else