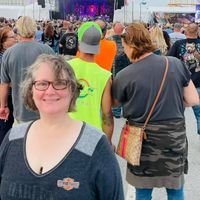 Entry posted by deazinn ·
1,021 views

10/5/17

would any witchees be interested in NASA swag? I'm now super-close to Marshall Space Flight Center and will be visiting the space center with my kiddo pretty regularly. If so, what would you like? Clothes, a mug, magnets, a plush Snoopy wearing a flight suit?
--Flight stuff might be fun! No mugs please, unless it's a Starbucks mug. We are trying to keep the hoard down. Magnets or a plushie would be great!

does anybody like anything from Solstice Scents? I LOVE their Jack and the Devil. http://www.solsticescents.com/
--I like Nightgown and Vanilla Estate; I'd like to try Black Leather, Red Lace, Manor, Winter Dove and Quiet Night


10/3/17

Witchee, would you like anything from the Trading Post Halloween update? https://blackphoenix...y/weenies-2017/

--Not really. The newest 13 and Pumpkin Spice Snake Oil intrigue me more....

10/1/17

Awesome farmer's market by my house. They have a local honey stand (which also sells things made from local honey like Propolis tincture!); there's a small apothecary and she additionally makes soaps and hand-made, hand-poured scented candles; plus a guy that makes an array of BBQ and Hot Sauces. Does any of this appeal? Would you like anything from my local farmer's market?

--yes, surprise me! I love honey, and candles, but I can't eat hot sauces anymore....

Smolder Cosmetics? Nothing called to me there.....
Strobe cosmetics! Um, yes!! Rhaegal (green gold eyeshadow) and Sanctuary (Forest green gold eyeshadow) both look amazing, as does Sea of Ghosts

Hello Kitty? While I admire the whole line, I'm really not into it. I'm more of a Totoro type girl

Farmers Market? I love local honeys, beewax candles, and I'm always looking for a set of 4 bayberry candles to burn at Christmas, it's a family thing. I like BBQ sauces, with a little heat, but sadly no hot sauces. My poor messed up internals can't really handle heat anymore....

Twi's dried apples? Yes
Greenwoodtree's Fudge? Yes, regular chocolate, plain or with walnuts

Haus of Gloi? I wouldn't say no to their tiny little sample sizes of soft bubbling scrub and/or lotions; scents like Spider's Silk, Apocathary, and Cozy Sweater.

9/30/17

Would you like anything from the Haus of Gloi Fall Part II update? https://www.hausofgl...ween-scent-list

9/27/17

How do you feel about these little guys? I think they're adorable and kind of want them all, but especially the ghost and pirate ones. https://lovemomiji.c...imited-editions

9/26/17

Witchees, do you want anything specifically from this page? Mitts, hat, shawls, unicorn... http://iceweasel.net/switchwitch/

What are your top three most wanted DC'd or previous LE BPALs?

What are some things you do NOT want to receive?

is there anything from here that you might be interested in getting a print (or pillow/make-up case/etc) of?
http://www.blackabbeystudios.com/store

Claire's has some super cute Halloween stuff. In the style of Haunted Mansion - black lace collars, lace and sparkle masques and the like. A few items in Dias de los Muertos style. Would you be interested in such things?

Would you be interested in anything from Orange Thyme? https://shoporangethyme.com/ If so, which products/scents/flavors?