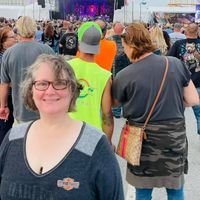 Entry posted by deazinn ·
243 views
Okay....here's some lemmings of mine!
Chocolate:  milk, *dark milk*, dark, with almonds/hazlenuts, plain...yep, it's all good! I don't like white chocolate, or fruit (esp dislike raisins). I love caramels. I like crispies - but, I don't like much of the Cadbury European chocolate range....go figure! However, I love love love Ritter Sport milk chocolate with whole hazlenuts, and milk chocolate butter biscuits. I also just adore fudge....yummm....chocolate, chocolate walnut and peanut butter. I like Peanut M&M's, Snickers, Peppermint Patties....it's pretty much all good. I got treated with chocolates from www.burdickchocolate.com and I'm in love - especially with their mice and penguins! I've had and adore Vosges Barcelona Bar and Goji Bar, but the others don't do much for me, like I thought they might. I like Godiva, and adore Ghiradelli. Lindt makes a sea salt dark chocolate bar that is the bomb, as well as milk chocolate sea salt truffles. Tim Tams are for the win, and I prefer a liquidy caramel to a chewy one. Did I mention I like chocolate??
If you live near a Trader Joe's, I am seriously addicted to their dark chocolate coated nutty bites as well as their chocolate covered butterscotch caramels!  I adore them, and my nearest TJ's is a 90 minute drive away!! I can also use a South African spice grinder as mine is all.  I love their different spice grinders! 
My favorite non-chocolate candies are Smarties, Sweettarts, Spree, Pixie Stix and Swedish red fish. I don't chew gum.
I'm a knitter, and I'm absolutely in love with this! I can always use yarn, especially the 100% cotton yarn like sugar n' cream, stitch markers, needle protectors..... For knitting I need 6/0 beads, preferably with an iridescent shine to them....
Books - I love books. I read pretty much anything in print. My wishlist on Paperbackswap.com is always updated, and I'd love to receive credits there - I'm 'deazinn' there as well - and pretty much everywhere on the web I also adore music - haven't started an Itunes wishlist yet, but I'll get there - in the meantime, I've listed some music/book/dvd wants on Amazon - link is in my signature.
Agatha Blois Carnival Wax = I absolutely and totally adore 1965 and will devour any amount...
I really like Wyrding Studio's hammered copper/bronze shawl pins
I have many of Alicia's (E&A) pieces favorited in Etsy.
I am currently in love with the leggings/tunic trend.....I would be in a medium *size 10* in leggings, and Walmart has some fleece lined ones right now in the Halloween and Fall prints pretty cheap! In tunics, I need a 1X or 2X, depending - I have a 40C bust and don't like skin tight tops.
I love candles! Etailers are really welcome here...I've never ordered from any but Dark Candles. Love some of their scents, others are meh. I love Yankee Candles. I have tart warmers, and tarts are most welcome. I'd really love some unscented tarts, so I can mix oils into them. In the spring, I go citrusy and seaside scents. In the fall/winter I go apples and spices, strong evergreen/balsam, and creamy oatmeal and honey scents.   Yankee Candle had a candle called Merry Marshmallow which was a vanilla sugar and marshmallow scent that I adored and would love to have tarts and/or candles in that scent if you can find some!!  The Yankee ones are d/c but I've found some that are close........I also need a small pack, like 6, of unscented tea lights for my tea warmer. 
I adore Calvin and Hobbes, and have all of those books - tho' not the really expensive leather bound editions which contain all of the comics. I'd love to have a C&H mug or Tshirt, but they're hard to come by. I also love Karen from Will and Grace, watch Sex and the City - I am SO a Samantha, and adore Friends. I watch a lot of medical dramas, and would love some way to watch all the seasons of Code Black without having to subscribe to the stupid CBS pay per view. I own Season 1 of Veronica Mars, and Season 2 or 3 would be great! I also need Season 2 of Dollhouse.......
I love tea, and drink a lot of it. All types, Red, Green, Black, herbal, you name it I'll drink it! Right now I am big time craving hibiscus tea, love the stuff in summer.  I don't like anything with a licorace/anise taste (or smell) or Earl Grey/bergamot, but I do love fruits and cinnamon flavors. Got Golden Moon's Vanilla Mint loose tea and I LOVE it! Other personal favorites are Stash's Christmas Eve, and Celestial Seasoning's Nutcracker Sweet, and Candy Cane Lane. I do have quite a bit of tea right now. We also have a Keurig, so K-cups of any flavor are most welcome as well! I'd also welcome a large pottery tea pot, my largest one is only good for 2 ish cups.  If you can pick up an electric teakettle somewhere that doesn't cost an arm and a leg, I've wanted one for a while now and can't quite convince the hubs we need one, he says the Keurig is good enough.....um, no?   I can also use well insulated tea caddys, one for my small Boden (I'll edit this with the oz size) and for any tea pot you may send along!!