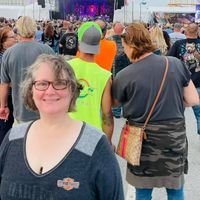 Entry posted by deazinn ·
620 views
Misc thoughts - Lush has a couple of new products that interested me; the Black Rose lip tint, the Bunny Moon jelly face mask and Get to the Roots hot oil hair treatment
For the TeeTurtle Halloween shirts, I like: Dia De Los Foxes, Resting Witch Face, and This Is My Happy Face. I also like the Haunted Socks,
I would squeel over a fine tipped black Sharpie, and actually need regular Sharpies in dark colors.

I really want to try Pumpkin Spiced Snake Oil, as well as the new 13. As always, even a tester imp is enough to start!!

David's Teas have a mug with stacked sheep on it that I am lemming big time.....so damn cute!

Still craving really good chocolate fudge

9/25/17

Anyone like/want calendars or dayplanners?
--I have my Erin Condren here for 2018, but I would love a wall calendar; Pinups for Pitbulls is my most wanted, followed by Nene Thomas, Amy Brown or Michael Whelan
If you like stationery, do you like plain, colors, images, or specific DON'T LIKES?
--I like note cards and envelopes best, next up would be paper that I can use fountain pens on without bleeding through; colors, prints, images, pretty much anything but spiders is cool with me!
What about general desk stuff like cool colored paperclips and post it pads?
--Yes please!

Would anyone be interested in having any of Abigail Larson's artwork (either as a print or on something, like a pillow, blanket, or t-shirt)? https://society6.com/abigaillarson
--I love the Halloween Wallpaper, pillow or blanket. I can look some more later

9/24/17

do you collect the art cards that BPAL sends out? Any in particular that you are looking for or definitely don't need?
--Nope

Do you like this beautiful art, and she makes stickers and prints...SOOOO gorgeous: https://www.shannatr...om/paperprints/
--her work is beautiful, but not really my cup of tea. Thanks though!

Favorite animals or wild creatures or mythological creatures?
Horses, unicorns, griffens; I also adore my pit bull

would you like any swag from the Depeche Mode concert? (pins, posters, shirts, program, dunno what they'll have!)
--anything would totally rock!!!

Is anyone interested in the new Resistance scents that the Lab just released (Take a Knee and SN: Flor de Maga)?
--SN: Flor de Maga intrigues me a little.....

Is anyone here into zero waste, plastic free living, urban homesteading, or any simplicity/minimalism-esque lifestyles? If so, could you use any tools or equipment?
--Any of the items here would be used and appreciated at my house!

9/23/17

Are you interested in anything from Bath & Bodyworks? Which products and scents do you like? www.bathandbodyworks.com/
--I love their hand bacs; they use to have a one minute manicure which I adored; cocoshea honey body scrub; any of the foaming hand soaps, in any flavor; I can use some wallflowers refills, scents I like are Leaves, Marshmallow Fireside, Cranberry Woods, Vanilla. Candles in those scents would rock as well, any size.

I am possibly going to a crystal / gem show tomorrow. I can't afford expensive gem stones, but...
What kind of crystals would you like?
--None that I can think of?

Pumpkin or Zucchini bread?
--Yes please!

What kind of homemade cookies are your favorite?
--Oatmeal chocolate chip, with or without walnuts. Yum.

Could you use a muscle rub? (We make ours on the lunar cycle and it has menthol, wintergreen, habanero, cayenne, olive oil, st. john's wort, arnica, beeswax, calendula, and ginger. It tingles. We call it "Thunder Butter". If you have really really super sensitive skin, I would recommend against it. And don't take a hot shower or open all of your pores before using it.)
--Have some, thanks!!

Interested in trying some of our rose petal (rose petals, sugar, everclear) or lavender vanilla bean (lavender, vanilla bean, vodka) liqueur?
--I have, but boy are they good!

Want some honey from the bees on our property?
--Yes

Would you like some homemade jam? I have blackberry, rose petal, strawberry rhubarb, peach, and cherry.
--Peach or strawberry rhubarb sounds amazing!

How about some homemade candied jalapenos with garlic cloves? I have regular and with habanero.
--Um.....no.

I didn't dry any apples this year but I was thinking of heading over to Green Bluff and seeing if any honeycrisps are left. I have a commercial dehydrator so let me know if you are interested in any "Apple Crips" (as voodoocatwoman calls them!) I wash, peel, core, and slice before dehydrating.
--Yes please!!

Do you need any kind of dice bag, tote, project bag, cosmetic bag, pencil bag, or whatever? I have lots of bag patterns and fabric. We make bags under the name Twinkle N Twilight.
Or how about a couple of pillowcases?
--I adore everything I have from these guys, and wouldn't say no! Twi knows what I like, you can ask her.....

9/22/17

Would my witchee like this to warm up the fall coffee cup?? https://www.truelemo...gory-s/1871.htm
--Yes please!

do you like to take baths? if so, do you like oils, salts, things that fizz, all of the above, none of the above?
--I do, but don't have a tub that I can soak in right now.....

What style/make/etc of phone do you have? What about size of tablet? Laptop? Would you like decals, skins, or cases for any of these?
--Apple Iphone 7 (in an otter case though.....but I need a new Iring!) Nook HD+ Tablet measurements are: 240.3 x 162.8 x 11.5 mm and I have a Toshiba laptop, but I have stickers on my lappy. A skin or a heavy duty cover for my Nook would be totally awesome!!

9/21/17

See's Candy. My absolute favorite. They have special Halloween candy..any of these pique your interest?? Cinnamon Apple Scotch Mallows, Pumpkin spice truffles, pumpkinspice lollypops, caramel apple lollypops, or any other of their chocolates, etc?
--I adore their Toffee-ettes; others that sound good are: Milk Pecan Buds, the Caramel Apple Scotch Mallows, and Milk Bordeaux

Are any witchees into coloring books?
--Yes, and I have a lot of them, but markers would be awesome!!

Witchees, is there anything that catches your eye at Animi Causa (https://www.animicausa.com/shop/)?
--Yep! Tipsy Bottle Stacker, Brain Drain Sponge holder, Chill Bill

If I were to find an adorable autumnal/Halloween-y dish/flatware/etc. design, how many settings would be needed in your household?
--four please!


9/20/17

Do you like Broadway shows/music? If so what are some of your favorites and/or ones that you hope to see or listen to eventually? Would you like merch from your favorite shows or CDs from shows you want to listen to?
--Yes, and pretty much anything goes!!

I'm heading to NYCC in October! Is there anything I can get my Witchee while I'm there?
--I like the sound of Apple III - the apple and champagne one! Also, any free books you can grab would be awesome as I'm not going this year!!

I'm going to Edmonton Expo this weekend (It's Edmonton's version of comic con). Would a witchee like anything from there?
--Free books? Bookmarks? Any fun things??

Anything catch your eye from this site (globalgirlfriend.com)?
--yes, there's a lot there I like. If you need me to answer this more completely, have the mods poke me please?

Do you have any favorite, lesser-known stores? Especially ones that sell hand-crafted or independently made items.
--None that I can think of......

Imagine you're going to the most gigantic art & craft show imaginable, and money is no object - what kind of things would you gravitate towards and probably spend money on? Include as specific as you want to get!
--I'll get back to this.....
9/19/17

Are you interested in anything from Think Geek? http://www.thinkgeek.com
--so much!! I have some stuff on my Amazon list. Again, let me know if you need more specific info, by having a mod poke me!!

Do you have something you wish you put on your original questionnaire/forgot to put/would like to add on to?
--Nope

Any additional misc. information about yourself you want your Witch to know? (I think this was on the survey, but again if there's something that you forgot...)
--Nope.

If you could decorate your house (or one room) in any one theme, what would it be? Your answer can be as simple ("Star Wars" or "Baroque" or "Modern"), or complicated or a combination (e.g. Victorian Gothic) as you feel best fits.
--Um.....I don't have a name for it, but it's kinda how we've decorated....lots of wrought iron, pewter wizard figures, dragons and griffins...

Aprons: Do you wear them, do you want one? Utility, decorative, cooking or crafting?
--Occasionally, and sure, for cooking!

BTW, would my witchee be interested in something like this? (photo of black and white striped knitted doll)
--yes, that's adorbs!