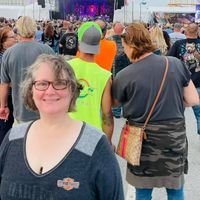 Entry posted by deazinn ·
608 views

9/18/17

It seems like there's a question about socks on the questionnaire, but I don't think it got down to this level: Do you wear them? Any particular style (crew length, knee high, anklet, boot, etc.) or fiber (wool, cotton, bamboo anything but wool, etc.) preference?
--I adore socks. I mostly wear anklets, but love crews as well. I can't wear any with a high percentage of nylon or poly, they don't play nice with my skin. My most favorite socks currently are thick cushy angora bed socks. You may want to note that I wear a Youth (or Big Kid) 4 shoe. Adult socks are mostly too big on me.

Would you be open to previously-loved books?
--Absolutely!!

What about partial-full bottles of BPAL or BPTP
--Again, yes!! Especially since my skin chemistry is so wonky.....I like getting little testers or almost empty bottles!

So what are your favorite fandoms?
--Anything by Joss Whedon; Orphan Black; Star Wars; Firefly/Serenity; Penny Dreadful

9/17/17

I'm in France at the moment, is there anything here you might like? I'm in Provence, the land of lavender, so if you like that flower in particular just say so!
--I adore lavender! Bring it!! Also, Mariage Freres tea, in Butterscotch. Even just a two cup sample would be awesome

are you into divination? What kind(s) do you currently do? Do you want more books and/or tools for that type (e.g. new tarot cards, new runes)? Is there a new type of #divination you've been meaning to try, and if so, are you looking for the tool, a book on the subject, or both?
--I would love a beginners guide to tarot

World my Witchee be interested in a Tarot or Astrology reading done personally?
--I'm good here.....

Does my Witchee need any magical supplies?
--No, but thank you so much!!

Would you be interested in any of the seasonal (or regular) soaps from Cellar Door Soap (https://cellardoorbathsupply.com)?
--Bad Blood; Oatmeal Milk and Honey; Once Bitten

9/16/17

Favorite gemstones?
--golden topaz; opals, all shades (and I love the new manmade ones!!); rich deep red garnets; iolite; hematite

If you enjoy jewelry do you like discrete and elegant, flashy and gaudy, small and light, or large and chunky?
--all of the above? I have some that fits all the categories, and wear them all. Just depends on the outfit and where I'm going!

Any love of pirates or SCA?
--Pirates. Argh!!

Is there anything you would like from Disney World?
--I would love a tea cup and saucer, or a fleece throw!!

Are you a Potterhead? If so, to which house do you belong?
--yes, but I can't remember and haven't been keeping up.....

How do you feel about chokers?
--Love them as long as there's a little room there. If it's too tight, I'll cough and choke.

9/15/17

Here's a few questions from me: Would you like some Halloween or other themed decor in the form of a banner, something like this http://www.etsy.com/...n-decor-vintage? If so, would you prefer a traditional style or a vertical door type?
--Yes, that's lovely! I have room for either style....

Do you live near a Trader Joe's? If not, are you interested in trying any of the numerous Pumpkin goodies they come out with this time every year?
--No, I'm too far from a TJ's. I'm not a huge pumpkin fan, but love ciders and spices and choc covered nutty bites......and......

Do you like to cook and/or bake? Could you use any specific ingredients (spices, oils, salts, extracts, etc.) or kitchen utensils/gadgets?
--I'm a decent cook, and a great baker! I can always use spice mixes, good vanilla, good cocoa or choc chips

I'm at Ocean City MD for bike week......would a witches want anything from here? Bike or beach related??

What is 1 thing you would love to see in your final box? Can be ANYTHING - your choice.
--a note telling me who you are!
Who would love some USPS eclipse stamps?
--Me please!

9/14/17

Do any of you potential Witchees have any kitties, puppers, or youngling humans you want spoiled in your packages? What treats or toys do they like?
--Just my lovely Ducati; dog cookies or biscuits, preferable not mass produced; antler chews; bully sticks; braided fleece tug toys

Is there any interest in any of the fragrance oils from the Nocturne Alchemy Weenies update?
--Peter sounds interesting; Hokus; Vampire Vanilla Bat

Is there anything you want from the trading post (or trading post etsy) that is available to order right now? (Fatherhood, Puppers, normal GC things) I'd love Wednesday's Child is full of woe, Granite, PaPow. If TKO room spray shows up, I'd love that.

9/13/17

Are you a gamer? If so, what games are you currently playing and is there any merch for that game you'd love to have?-
If you are a gamer do you have a steam/gamestop/amazon wishlist?
--Sorry, not really a gamer!!

How do you feel about the following scarf options (assuming you're into scarves)?

Like beer? What styles most appeal to you?
--Nope

Like booze? What kinds?
--Chambord, creme de cacoa, any of the Godiva liquors, good vodkas and Bombay Sapphire gin. I'd really love a taste tester of Dubonnet

Like Wine? What kinds?
--Yes, but I'm picky. I love ice wine. I love peach wine. If it's so sweet that it may turn your stomach to taste it, that's my kind of wine.

Would you be interested in a set of hand-made hair falls? It's something I do for fun and I can make any length and do an array of colors!
--That would be awesome!!

For those who watch certain movies every year for Halloween, what are those movies, whether horror or not? Any favorite horror movies that aren't necessarily on the annual-viewing list? How do you feel about fan-made merch for these movies?
--My favorite is Rocky Horror....and I'd love stuff inspired by it! My daughter loves Hocus Pocus, and would be head over heels delighted with something inspired by that movie. Lastly, my husband is a HUGE Jaws fan.