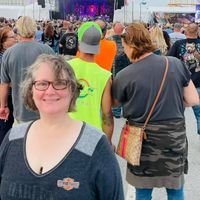 Entry posted by deazinn ·
1,060 views
Is there anything you would like to get from Japan?

Um......everything?? Seriously, I would love some textiles like silks and embroidered stuff, I covet a new fan (like the ladies in the old days used, fabric over sticks) mightily, I'd die over a Starbucks Japan mug, I love Pocky, seaweed snacks......much more but that's what I think of off the top of my head.....

My favorite shortbreads are very rich and crumbly ones, not hard and dried. I like plain, vanilla, and lemon

Sock? I adore socks!! I can tell you I am moving away from shortie socks to crew length and knee highs. I just started working with/riding horses again, so a pair or two that are very heavily padded through the foot would be awesome, and can be worn on my motorcycle rides as well!!

I have a Fitbit Alta, sized small, and I just had to order a new strap because my original one broke. I'd love additional straps; I covet mightily the blush leather one that is Fitbit branded, but it's spendy. Etsy has some fun ones, and I'm sure Amazon/Ebay have some too!!!

Sorry about that darlin'.....when my old laptop died, I lost all of my old files. Trust me, it was a sad moment here when I realized that.......
On Pinterest, I am the deazinn with the rainbow Zebra, the Zebra being the mascot of my rare orphan disease called Ehler Danlos Syndrome/hypermobility type.
On Live Journal, I am dea:underscore;zinn because it hates me.
On Instagram, I am zinndeanna because apparently I already made an account under deazinn, and lost it? And can't find the stinkin' password....

I am currently mostly on Facebook and Ravelry, though I will make a very concerted effort to keep up and answer questions here. Please feel free to poke me, or ask TwilightEyes, Coldie, or damn it the person who sent me the learn to knit kit and the dark snickers and the Dexter knitted lip balm cozy who's name I can't remember!!!!~

VoodooCatWoman it's so good to see you!!!!

Okay, a couple of answers now:
How do you feel about knitted stuff? Love, thanks!!
Fancy? Plain? Either is fine with me

What types of things do you like to wear? knitted shawls, small lap blankets, long long long scarves, especially woven scarves....really, anything! I do have two pair of knitted fingerless gloves that I wear a lot in the cold season.

I'm into beer. How 'bout you? Nope, but I am really intrigued by Mead and would love some samples of different types, the sweeter the better. Same goes for wine, my favorites are ice wines, which I adore. Also wines that are partially fruit nectars.
Styles?
And booze?

How do you feel about caramel? Love soft fluid caramels, chewy ones are really hard on my jaw. Same as gum. No go for my dislocating jaw, thanks!!
Salt or no? either
With chocolate or without? Is this a trick question? Chocolate!!!!

Would you be interested in home made food items? Yes to all of the below.....
- garlic dill pickles
- blackberry jam
- dried honey crisp apples
- applesauce (with or without red hots)
- elderberry syrup (with honey and apple cider vinegar - great for immune boosting)
- honey from our bees
- rose petal liquor (made with our own rose petals and everclear but diluted down a bit so it doesn't knock you over)
- baked goods of your choice, what do you like or dislike? I really don't like fruit in my baked goods, except for cranberries. I love nuts of all kinds, and chocolate.

Would you be interested in project bags/pouches? I love project bags, and really need a couple of larger ones for my never ending blankets.......

And to go along with the previous knitting question...
Are you allergic to any fiber or do you know what kind of yarn you prefer? (merino, merino cashmere, merino cashmere silk, 100% silk, 100% cashmere, merino nylon, BFL, BFL silk, etc. Or do you like acrylic?) All of the above. I especially adore angora yarn, but it's spendy and hard to find. I love silk, cashmere, alpaca. I don't like mohair. All kinds of wool are fine. I love knitting with cotton. Acrylic is okay if it's really soft.....there's a couple I like and I will find them and post them here if needed. I also bead my knitting, and can use 6/0 beads, preferably Japanese brands (they are the best) and I really like ones that glimmer, glitter and shine.....
9/14/16:

What are you interested in from the recent BPAL and BPTP updates? (Lilith, Lunacy, etc.) I'll get back to this one.....

Would you like hibiscus seeds? Yes!!