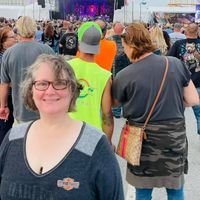 Entry posted by deazinn ·
829 views
Witchee, would you like (would you wear?) a long wrap choker?
here's a random image of one I found on google: https://cdn.shopify....pg?v=1472662396

The one I would make for you would be done with pretty glass and/or semi precious stone beads. I can do any colors you choose, and I can use mostly tiny seed beads or chunkier beads or a combination of the two. So...what say you???

I vote yes please!!!!

I only like Chocolate Pocky.......not any of the other flavors. With or without nuts is fine!

I also like low sodium jerkies.....started eating them as snacks with my finicky tummy!!


The Hierophant meads sound good....but I'm with Twi. I don't like beer, or hops. My favorite wine in the world is Ice Wine, with a very fruity slightly sweet sangria being the second. Even rieslings can be too dry for me.

Having said that, mead really intrigues me, and I'd love to try it.

Just so my Witch knows, I'm very intrigued by the Halloween Atmo Spray THE ACTOR ICHUMURA MEETING A CAT GHOST ATMOSPHERE SPRAY.

Yep, I can provide Twi's old address no problem, and I'm open to minioning her, and a couple of others! I have addresses for some of my GUSPers.

Since we've lost Fabienne, if my witch can get their hands on: Girls Love Vanilla, Madame X or Gingerbread Whorehouse, I would be over the top excited!! I've never stored her perfumes, so I have no idea how they age. Anyone here know??

I got back from the doc's a little bit ago.....I apparently bruised my xiphoid process at the end of my sternum.....and, I have a sinus infection! Bleah!!

Thank you so much my beloved Witchee for the ecard and the sentiment! I actually have brownies and fudge both coming now, from my knitter friends in Ravelry and also GUSP'ers on Facebook. I think I'm good.

I also wanted to mention that I'm in a Tea Swap with my knitter group Ravelry, so please don't be sending me tea! I also still have some of my beloved apple Chai from last year. Oh! But, if it's out before the round ends, I do absolutely love the Stash Christmas Eve tea, and a box or two of that would be warmly appreciated. The mint in it helps my tummy, which is an added bonus, so I'm drinking a lot of it!!!

Brownies, the fudge kind, would not be turned away

I like flavor without a lot of heat.......the mild smoked chipotle and the smoked sweet cayenne sound really good. Nothing really over medium in the spice range as hubs is a super taster and can't handle any level of spice.

BDSM/Erotica; sure, I'm up for anything? With my illnesses and wonky energy levels because of them and the meds I take, I'm really hit or miss in the bed, and as I'm pretty visual, that would be fun and spicy for me. I very much tend towards the submissive to my much more dominant husband.

Weenies and NYCC scents.....I'm still pondering. Just got the holiday Lush catalog - some winners in there!!!
I'd really love some thick warm soft socks....not slipper socks though, the jellies on the bottom wig me anymore. I wear a Youth 4 size shoe, so adult size socks tend to be kinda big on me unless they are specifically for the smaller women's sizes.

I'm really into leggings right now, and they tell me that Walmart has some gorgeous fleece lined ones for under $8......I wear solid tops so pretty much any print on the bottom would work, and roses, skulls, sugar skulls, fall leaves would all work. I'm a solid 12 in pants right now, and don't want them skin tight. I have those already



I adore the Bee Folks, and get their honey on a regular basis. I am on my last jar of Cranberry Honey and would love a jar or two! It's my very top favorite and I go through 6-7 jars a year on average.