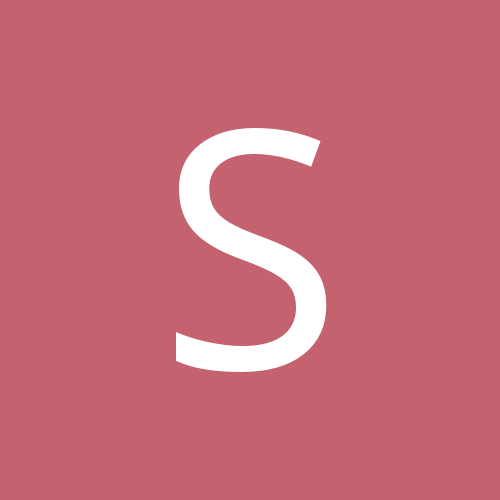 Content Count

61

Joined

Last visited
Everything posted by sabrebabe
In the bottle: Ooo! Lovely! Rich incense and heady florals, but not sweet. And leather as a supporting note! Wet: Okay, there's the sweeter florals, but not sickly or cloyingly sweet. And the amber and orange blossom are picking up in strength. Leather has faded. I recognize this from somewhere in my past, but I'm not sure where. Dry: Aaaaand there's the rose. And I remember where I've smelled this before: one of my Grandmother's friends used to get this very fancy French-milled soap. It was lovely and creamy and smelled just like this! I think I'm going to hold on to this one. Not as something to wear, but this is definitely going into sachets to go into the linen closet!

In the bottle: Irish coffee, with a little extra cream. Very sweet, but I like the smell of coffee, so we shall see. Wet: Really strong coffee, straight from a proper coffee shop. With a lot of extra cream. As is settles down, there is more Irish cream and less coffee. And ever so slight… something like baked sweetbread in the background. Uh-oh, it's going a bit coconutty now. Dry: Oh no! Now it smells like fresh Play-Doh! This is a bummer, I had such high hopes for this one. Trade pile.

I received an imp of this and I'm absolutely delighted with it! It's a wonderful, happy Autumnal scent that is everything about living out in the rural backwoods! In the bottle: Very strong! Something green and astringent. Definitely cedar, balsam fir and juniper. Wet: Oh, I like this! Very spring-like. Grassy, not mown. Warm night breeze. Again, lots of balsam fir, juniper and cedar. And a bit of sage. Dry: Yes, more of the fresh late evening breezes. Sage, fennel, and now I can smell the black cherry and aloes. The woods are starting to take a back seat, but still there. Will keep this one. Is a very happy scent. Later: Aaaand there's the plums and grapes. Good staying power on this one, too! Now I just need to find a few more imps of this. Or someone willing to part with a bottle!

This, I absolutely adore! Now I have to find someone willing to part with a whole bottle of it! In the bottle: Smells like a very mellow version of a high-end perfume. No hard biting notes to scald the nose hairs (like the ones in the store do). Smells very balanced, can't pick out any one note over another. If I focus, I can just barely pull out a rose scent. Wet: Very delicate, I can smell fresh flowers. Not too sweet, nor too "floral". The spices are keeping them grounded without overpowering them. Smells like a floral display at a funeral. More and more rose coming out as it dries. Dry: More old world roses coming out, softly. Not heavy. Should I be looking for vampires? Ah, there's the copal and tobacco! And the woods! This is very lovely, smells like something my Grandma Chavez wore. Very elegant and ladylike. Much later: Roses, roses and more powdery roses. Light, not overpowering and the most ladylike perfume I'd ever dare to wear. BUY A BOTTLE!

Why is it my favourite holiday is rife with foody scents (of which smell terrible on me)? In the bottle: Definitely latte. And vanilla and nutmeg, in that order. I'm almost afraid to put it on, as it's a very, very sweet scent. Just a hint on pumpkin. Wet: Lots and lots of latte, vanilla, nutmeg and a bit more pumpkin. I smell like a Halloween candle. Dry: Oy! There's the pumpkin. And the milk. Now I smell like a pumpkin latte. Still don't like it much, though. Later: more and more vanilla/pumpkin, less and less latte. Some nutmeg and cinnamon, not much. Still milky. Still Halloween-candle smell. Trade Pile

This made me sad, because I love going appling in the fall and stomping around in the leaves and climbing the apple trees for the best apples. Sadly, because it's a fruity scent, it didn't do well on me. I could have at least used it in my melty scented wax "burner", but it just wasn't...right. In the Bottle: Fake apple candy and orange candy smell! Very, very strong! Yuck! Am hesitant to put it on my skin. Wet: same smell, but I can smell some of the lemon now, too. Still yuk. Dry: apple cider candle. Nutmeg, cinnamon and cloves are finally coming through. Stronger spice scent, less candy fruit smell. Still not liking it much. Tried to wash it off, now I smell like an apple-cinnamon candle! Trade pile

In the bottle: astringent, sharp. Reminds me of my grandfather's aftershave. Not horrible. Wet: Ah, now there's a slight sweet flower coming through. The sharp, astringent note is mellowing very quickly. Still, it smells like my grandparent's bathroom. Clean, but that peculiar after-shave smell. With a hint of flowers. Grandma wore rose, but his is something different. More delicate. And something slightly medicinal. Like Watkin's brown salve. Dry: It's gone very powdery and flowery. Very dainty. Very grandmother-y. Nice and comforting, but not something I'd wear. Trade pile.

In the bottle: Oh, definitely a perfectly balanced blend of roses, red sandalwood and patchouli. Very nice! Wet: red sandalwood, roses, slightly powdery. Patchouli has lessened a little bit, the flowery rose is stronger. Dry: Okay, more powdery and more flowery, with just a smidge of the sandalwood and patchouli in the background. Very powdery, in fact, and sweet. Not as nice as it was in the bottle.  Much later: Now it's all soapy. Cheap, fake rose scented soap.  Trade pile.

In the bottle: WoW! In the face with wood smoke, black pepper and vetiver! Lovely! It seriously smells like where I used to live in Southern Germany! Which makes me very, very happy, indeed! Wet: more firewood, smoke, ash, lots of black pepper, and vetiver and tonka bean to smooth it out. Not too much cardamom, but I can pick up the nutmeg and the myrrh, just as a back note. Yum! ::happydances:: Green, green, and deep Black Forest smells (not the imp, the real thing!). Makes me dream of gingerbread houses and hot chocolate. The little stream that ran through the woods near our village (which the village was named for) and the woods up on the hills overlooking the farmland. Picking wild mushrooms in the woods and eating wild strawberries. I should also mention that this is a *very* masculine scent! I'd place it with a woodchopper/woodsman/huntsman. Someone who worked very hard outdoors. Dry: Oh, the cologne! Firewood, vetiver, old leather, woodsmoke, and spices! All the lovely spices are now coming in, with black pepper in the forefront! Myrrh is coming forward and the tonka bean has pulled away. The vetiver is holding strong and latched on to the "leathery" scent. Patchouli is finally making an entrance. And now, just the tiniest hint of a sandal wood in the back. Lovely, lovely, lovely! Buy a bottle! (and try it on the hubby!)

In the bottle: Rose, rose, rose, rose powder, and something lush and green. Wet: rose water. Rose bath? Rather light. The green bit seems to have run off. Dry: How sad. I had hoped for much, much more out of this one. It promises roses galore, but as it dries, it nearly completely disappears. Just the faintest hint of rose. Don't get me wrong, it's a lovely rose, but it just…lost it's head. The green grass finally comes through now that the rose has nearly faded away. It's a lovely delicate balance. Might be lovely in a sachet in my lingerie drawer. Otherwise, into the Trade pile.

In the bottle: Wow! Hit with honey and ylang-ylang. Hard. Very sweet, like a very rich hard candy. Wet: more sweet rich candy, honey, and spices. Nice and tasty, but for a perfume? Candles, maybe, if you like that sort of smell. It's very cloyingly sweet on me. Not a good sign. Dry: Okay, this has gone really bad on me. Pure sweet candy and nothing else. Fake "fruity" candy smell, too. Which is a bummer, as I was kind of hoping for a more earthy honey scent, but it went to pure candy store hardcandy/fake flavour smell. Trade pile.

In the bottle: Bitter and rose. A very bitter rose. Wet: clean, clear and bright. Very light rose, right out of a shower. With a light rose powder afterwards. The bitterness has disappeared for a light, bright scent. Dry: Ah, the bitterness has returned. Still with a powdery rose. The two are fighting against each other rather than blending and it's giving me a headache in the process. Trade pile.

In the bottle: Definitely heavy on the patchouli and dragon's blood, with a kick of vetiver. Slight musk underneath. No sign of the cinnamon. A bit sweet, as well. Slightly sinister. Wet: Still sweet, but not sugary. Serious incense shop smell. Patchouli and dragon's blood, musk is stronger. Still no sign of cinnamon. Is getting sweeter. Dry: It's gone very light and sweet on me. I smell like my sons' clothing after they've been out smoking with friends, and I don't mean tobacco! There's a hint of… a swear it's maraschino cherries. I can't pick up any of the patchouli or dragon's blood anymore. The musk has long gone as well and all that's left is the light spicy cherry smell. Trade pile.

In the bottle: Oh, yum! Vetiver and leather! And a smidge of cinnamon for a spicy bite! Wet: Still vetiver and leather, less cinnamon. Much more jasmine and a hint of rose. Something slightly medicinal in the background, like rubbing alcohol, but not quite. Rich, green and loamy. And smoky. A bit sinister. Dry: A spicy musk, with something that hints at old leather, and dark nighttime forest. Still something slightly medicinal, like bloodied bandages, and smoke. Very secretive. Definitely a keeper! Wonder what it will smell like on the hubby? Or the sons?

In the bottle: dark, dirt, dust. Something dry and sandy with a splash of musk. This has promise. Wet: It has become grassy green, with a little bit of loamy dirt. Not nearly as dry and dusty now. Picking up some incense and sandalwood. A smidge of warm air and sunshine. More wood. Dry: Less "green" and more wood: oak and pine, I think. More oak than pine. Like walking through a lumberyard. Still sunny, maybe a smidge of lemon? I'm enjoying this very much. Summer in the woods out back. Very nice. Definitely a keeper.

In the bottle: Lily of the Valley, some rose, something "soapy" smelling, hint of myrrh. On me: Lily of the Valley and rose, blended. Not much of anything else, but the "soapy" backnote. Dry: Lily of the Valley and rose have really amped up and are very flowery sweet. I can't detect any other scent. Really, it's too flowery and soapy for me. To the trade pile.

In the bottle: Lemon? Something citrusy. Fresh air, deep woods, and dry dirt. On me: fresh air, deep woods, and light musk. Something very clean, and light green, like sweetgrass. Dry: Dusky and musky, slight hint of leather and sweetgrass. Still fresh air and sunlight. Something lightly spicy, it has a little bit of a bite. Later: My husband's leather duster, with musk and sweetgrass. And a smidge of dry dirt. Still quite airy. I like it, but it's not quite a scent for me, but I think it would be stunning on my sons. Will put some on them and see what happens. Otherwise, the imp goes into the trade pile.

In the bottle: pomegranate syrup and blood musk. Very sweet and syrupy. On me: smoky pomegranate syrup. Just a hint of musk. Still too sweet and fruity for my taste. Dry: Very flowery and sweet and dainty. The pomegranate and musk have pulled back and allowed the cassia and mimosa to take charge. No sign of the musk or smoke. Myrrh may be trying to come through, but it's hard to tell at this point. Later: Gone sugar-sweet on me. Still heavily flowery and dainty, not much of anything else going on. It's a nice enough scent, but I really don't like the Pretty Girly Sweet Flowery (or Fruity) scents. Will toss into Trade pile.

In the bottle: white musk, white sandalwood, neroli, light bergamot and just a hint of vanilla. Light and airy. On me: light and sweet and airy. Some flowery scent I can't pinpoint. All the musks have melded together and count as one rich, sweet note. Lemon verbena and neroli must be the floral notes, although it smells vaguely rose-y and lilac-y. Dry: There's a creamy lemon coming in now and un-sweetening the flowers. The musks are still holding strong and balancing with the new citrus and bergamot. Still very airy and gentle. Later: Light, airy, spring flowers (not too strong, and lightly rose-y, lilac, and maybe even lilies), hint of lemon, lemon verbena and a slight, very slight herbal. A green pasture in sunny late spring. Clean laundry on the line, sunny white sheets blowing in a gentle breeze. Small children rolling around in the tall grass and kids picking wildflowers for mum (or gramma!). I want to cry, this smells sooo much like my grandmother that it makes me think she's right here in the room with me! I've been holding on to this imp because it smells exactly like a perfume my grandmother wore. Not sure that *I* will wear it, but it's a blissfully happy memory for me. My cousins also agree and we all hold an imp when we need Gramma. It's not a scent I can wear, it's too emotional for me, and far too girly, but I'm keeping the imp for a casual sniff once in a while, when I want to remember and feel safe and secure again.

In the bottle: Alcohol and juniper. Very faintly. On me: Lots and lots of juniper. That's okay, I like the smell of juniper, it's very similar to rosemary and I like that, too. Hint of pine, too, but I suspect that's the juniper getting resinous. Dry: Ack! There's the toilet bowl cleaner. Very strong and astringent. Juniper gone bad. In a horrible, twisted, toilet-bowl kind of way. Later: Still not any better than the toilet bowl. A clean one, no doubt, but still… Imp to the trade pile

In the bottle: Strong ,astringent, powdery lavender. Somewhat melancholy. Definitely an Old Lady Perfume. It almost makes my eyes water. On me: much more flowery, much less astringent. Very strong lavender, lilac and/or violets. Only slightly powdery now. Dry: Smells like potpourri that little old ladies keep in their bathrooms. I remember it from my grandmother's friends' homes. They usually had little matching soaps to go with the potpourri. Later: aaand now I have the matching powder to go with the little soaps and potpourri. It's still very lavender/violet/lilacs and pretty lace and little teacups, but I just can't wear it without sitting up straight (no slouching!) and acting like a little lady. ::shudders:: Sorry, I'm a hopeless tomboy. Imp goes into the trade pile for someone with better manners than I.

In the bottle: Musk, carnations and chrysanthemum, no hint of plum. On me: Ah, there's the plum, beating back the flowers, picking up spice and backing up the musk. Not too bad, but it's a little powdery sweet. Later: now I smell like a fruity candle. Slight hint of spice with the candied plum. Much later: Now I smell like the whole candle shop. It's a bit nauseating. Although it does make me think of a nice, dark purple candle. But not with this scent. It's too syrupy sweet for me. Almost headache-y sweet. Imp goes to trade pile.

In the bottle: Baked sugar, borderline burnt sugar. Seriously sweet, very sugary currants. Not much rose at all. On me: Booze-y slightly burnt currant tarts. Still very sugary sweet. Slight touch of vanilla in the background. Dry: Losing the burnt sugar smell and currants are finally coming through strong. Lightly fruity, with a Darkness to them. Still booze-y. Rum? Burboun? A sweet booze, no doubt. I really don't like this one: it hits all the things I don't like in a perfume: sweet, sugary, fruity, somewhat flowery and vanilla. Goes into the trade pile.

in the bottle: dry dead things. Like the inside of a forgotten outhouse. An old, mouldy paperback found on the floor of a burned-out house. Bitter and acrid. Why am I trying this? On me: Okay, now it's fresh, green and slowly decaying. Old run-down farmhouse rotting out in the fields. Dry and dead wood, moss and lichen. Very Dark and horribly dark green. With mold. Although, it smells better on me that it does in the imp. Dry: It's getting better. More green and less filth, though it's still very dark and sinister. More loam and moss and a slight hint of roses. Later: Very nice now. Very green and only a little menacing, like the forest after dark. This is a very surprising scent, as it's absolutely disgusting in the bottle. Now it reminds me of a walk out through the woods out back. I can almost smell the pond, algae and all! Much later: this has turned into a luscious green, loamy earth scent that I love. Keeping the imp, will think about a bottle.

In the bottle: amber, bergamot, Bulgar Rose and musk. Perhaps a smidge of sandalwood in the background. Rich, not sickly sweet, slightly heady. Incense-like. On me: Amber, bergamot, and sandalwood. No sweetness at all (yay!). A little woody. Somewhat resinous. Probably the amber. Dry: Woody, very slight impression of pine amongst the bergamot and amber. I can't pick out anything else right now. Later: Lost the woodiness and now back to amber and bergamot. I think the sweetness is the rose and saffron, but I can't be sure. Musk is picking up again, giving it a richer tone, keeping the sweetness from becoming overwhelming. Sandalwood is there, but just barely. Much later: Has mellowed to a warm, rich, spicy mix. No one note can be picked out now. I like it a lot, but don't know if I want a whole bottle of this. Will stick to imps until I decide. It morphs too frequently for everyday use as a perfume, but is lovely for a bath oil.