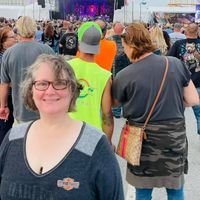 Would you like to receive Girl Scout cookies and if so, what kind is your favorite?  Thin Mints and the Lemonades
Would you like a Gnome amigurumi?  (smol knitted or crocheted gnome)  Sure! 
-- if so, What gnome colors appeal to you?  (three-four colors please)  Any~
-- do any of these patterns appeal to you (I pretty much have all of them including the ones for humans but I'm not going to make a colorwork sweater for you, sorry.  I *might* make a hat or mitts if you like grey, blue, and red as shown because I already have that yarn.)  I really love the hat with the long tail on it!
How about Gnome tea towel(s)?  Yes please!
Would you like a cross stitched gnome picture / ornament?  Yes!!
What's your favorite way to experience Nature?  A hike in the woods, a day lounging on the beach, only as screen savers on your computer?  Beach time for sure!  I do also like wandering in the woods, and time on the motorcycle prowling around new areas
what kinds of safety and environmental concerns need to be considered for your gnome so they can safely reside at your home? will they live outdoors so they need to be weatherproof (for what kind of weather)? will they be indoors and need to be pet or child-safe? do they need to be very tiny or capable of hanging on a wall?  If indoors, will need to be pet safe; if outdoors, will need to be weatherproofed.
How do you feel about zombie or other horror gnomes?  Bring them on!
Do you need any seeds? If so what varieties might you be interested in? Flowers, veg, herbs.. ?  I love starting from seed, especially vegetables that are gmo.  I pretty much would love herbs, esp dill, and tarragon, as well as green (or purple) beans, tomatos and banana peppers!
Would you like feathers from my Peacock, Gary (short for Gyrados)?  My brain says yes, my allergies say no and they are winning currently
if BPAL is one of your treasures, which BPAL would you like the mostest?  (Maybe one that is available right now from BPAL and one Limited Edition/Discontinued?)    Mouse's Long and Sad Tale, Whip are my two fav GC right now, and even imps would rock as I have almost empty bottles.  LE I love Snake Charmer, either OG or Rez is fine.  I'd love a sniffie or tester of any on my wishlist, which is updated
If you are a tea drinker, which (if any) of these teas tickle your fancy? Yes!  Mistletoe Mint, Alpine Black, Naughty Vicar, Serenity, and Hibiscus Berry all sound good!  Small amounts are just fine
would you like a tiny hand drawn gnome picture?  No, not really 
Is homemade vanilla something you might like?  I have a "Mother Jar" that I can decant from.  These beans have been steeping for 2 years in a very nice bourbon.  Absolutely yes I would love some!
Are there any colors you would prefer your gnome not to have?  Nope
If the creativity bites, would you possibly like a small embroidered gnome? Could be an ornament? Any gender preference or details you might like added (small mushroom, bee, heart or egg...)?  Yes, and bees or hearts would be great
Do you have a need for cheese knife?  https://ototodesign.com/products/bert-cheese-knife?  We do actually, and that is too cute!
I'll be in Seattle next week- any treat you might enjoy from the PNW? Spoopy/ Gothy things? Nice coffee beans? A Nirvana t-shirt...?   Um.....I dunno? 
I'll be back in Disney World next month- anything you might like from Epcot or Hollywood Studios?   A cool teacup?  I'll go check out the Disney Store to try and get some better answers here....
Would you be interested in a small copper nature totem that could nestle in your garden or amongst your plants? I can do some chasing to create a mushroom or a leaf or a special bug fren...  Yes, I would.  I love dragonflies and frogs, and leaves are cool as well!
Would you be interested in a decorative pillow or zippered pouch featuring a gnomely figure?  like this?     Yes,   or a little coin purse?     No, or please tell me to make this because oh my gods...  Yes, too cute!