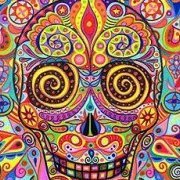 Entry posted by BuxomM ·
86 views
Random blurbs each day.
Updated 11-11
11-11
didnt do anything for Halloween. My birthday was good. Got tattooed. Went to dinner with my sister at grand lux at the palazzo and saw the show KA. Monday I had dinner with my family at my nieces house. Work has been crazy busy as people were sick which meant having to pick up slack.
—————————-
10-27
mom is  okay. Work is busy. Got a couple new tattoos at a Halloween event. Debating what to do for my birthday. Family will probably barbecue. Wanted to get tattooed, chest piece, but that's not working out. The month ended fast. I didn't get into the spirit.
————————
10-12
Went for a manicure pedicure today. Getting back into the swing of work. It's getting colder during the days and nights.
10-8
moms doing well. Salem was nice. Very crowded. hair is fixed, better. Was pretty much much blue before (wanted it equally dark blue, light blue, magenta, and purple), now it's dark and light blue with sone pink on top. Don't want to go to work tomorrow 
——————
9/28
mom is doing ok, resting at home, coping with pain. Too much to do before I go. Got my hair done, didn't turn out how I wanted. Excited for vacation.
9/24
moms surgery went well. Still not out of the woods but she's stable. All day training tomorrow.