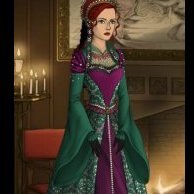 dear witch,

i've been skipping or being vague on questions that i think are already answered by the questionnaire, or where i don't want to get so specific as to basically create a laundry list of exact items i want. some questions have been actual repeats from the questionnaire, while others are new or altered questions but my answer would be redundant from things i said in the questionnaire. and in questions about whether i want something from a certain website, i tend to either skip those or say "yes" or "no," because i would rather have you enjoy exploring, making choices, getting things that seem "me" but also speak to you personally, etc rather than just giving you list after list of every item i want from every website. for me a lot of the magic comes from totally surprising my witchee, as well as introducing her to things i love based on a common interest we share, and i don't want my witch to be pigeonholed.

Random thoughts: i super want this: https://www.lvnea.com/collections/rituals-kit/products/autumnal-equinox-feu-sacre-limited-edition-seasonal-box and also would just love some samples from Lvnea.
i also love Nest's seasonal candles, which I forgot to mention in my original candle answer. they come in a ton of sizes at different price points and can be found on their own site, Sephora, Amazon, etc. as far as seasonals i love the scents Holiday and Hearth, and am so curious to try the Pumpkin Chai one
this used to be my favorite t shirt, but i lost it years ago. even though i'm normally XS/S, i'm sure the medium would work fine for a t shirt: https://www.wolfgangs.com/led-zeppelin/clothing/womens-t-shirt/OCS770723-B.htmli also like the grey (also Zeppelin) one with the avocado on it from the same site.
Speaking of sizes, I don't remember answering that, other than for jewelry - i copy and pasted a lot of my questionnaire from past years, so i might have missed that it was in there, but just in case. i'm 5'2", 32-26-36, size 5.5 shoe (sometimes 6, pretty much never 5), size XS/S or 0/2 depending on the cut and fabric of a thing
these are so cute: https://www.williams-sonoma.com/products/halloween-skull-double-old-fashioned-glasses/?pkey=cbar-glasses-old-fashioneds&irgwc=1&cm_cat=ShopStyle%20Inc.&cm_ven=AfShopPromo&bnrid=3917500&cm_ite=Std&cm_pla=IR
i would love this notebook duo in Rorsarch or Vintage Blossoms! i like Rorsarch a little more, because the little "notes" is more subtle than the giant "notebook" design. https://petitvour.com/products/notebook-set
You know what else I just thought of, witch? Gourmet/fancy vegetarian marshmallows. I always get a little rush of excitement when I see fancy, handmade, organic, fine vanilla, whatevs et al, marshmallows, but they usually contain gelatin. If you did come across some really nice looking vegetarian ones, and wanted to pair them with some sort of fancy dark drinking chocolate to keep me company as I enter my first dark Seattle winter, they would be put to very good use! Other things that pair nicely with fancy dark drinking chocolates include: Rumchata.


oh, witch, in case you've been trying to find a way to justify the shipping to get yourself something from https://baba-store.com/, please know that i love pretty much everything they do, including the many items at the lower price points (little tarot bags, viscose wraps, mini messengers, any other bags that are on the less expensive end....) Alice, Poe, Russian fairytales, art nouveau, you name it!

Amazon and etsy wishlists: http://a.co/55enkbtwitch, this is my main amazon wishlist, but hopefully it will have an option to see my others, because i have ten or so different category ones. please don't get me any clothes or shoes from this wish list, because the sizes and colors don't always show up correctly in the wishlist, so those are just there as a reminder to myself since i know which size/color combos.
on etsy, only this one (the one called wish list) is my wish list. my other lists are gifts for other people and things like that: https://www.etsy.com/people/abrodite/favorites/wish-list?ref=pr_faveitems_list_name
i also have a wishlist at Petit Vour, but like Amazon, the color choices don't translate correctly to the wish list, so i would only want items that don't come in different color (or scent) options: https://www.petitvour.com/apps/wishlist/
and there are a LOT of companies, individually linked items, and other stuff that i would really love mentioned throughout this entry and my questionnaire, so please don't feel like you have to stick to wish lists! <3
Would you like anything from my local farmer's market?
i want every type of honey, pollen, propolis, and other bee goodies i can get my hands on. i'm always up for new hot sauces, but with fairly traditional flavor palettes - like, nothing very sweet or intentionally avant garde like "blueberry habanero."
Smolder Cosmetics. Do any of their products (glitter, eye dusts etc) appeal to you? https://smoldercosmetics.com
Anything from Strobe Cosmetics (http://strobecosmetics.com)?
if they're cruelty free, i'll happily try stuff from either/both of these brands.
How would you feel about getting Hello Kitty stuff? I prefer My Melody

Would you like to get some favorite recipes? Sure!

Would you like anything from the Haus of Gloi Fall Part II update? https://www.hausofgl...ween-scent-list Sure - lotion or bath products, but not perfume. Ghost puffs, the corn one, or almost anything that isn't super dirty smelling.

What are your top three most wanted DC'd or previous LE BPALs? as far as top three that i don't already have bottles of - Bread and Butterfly, The Great Red Dragon Woman something something William Blake (see wishlist in my signature for the real name), and La Fee Verte. Preciouses that are running dangerously low and MUST be somehow replenished: Fairy Market and Lullaby.

is there anything from here that you might be interested in getting a print (or pillow/make-up case/etc) of?
http://www.blackabbeystudios.com/store sure - functional moreso than prints, because i have so much wall art, but i would find a place for a new print as well - Danse Macabre, Spell of Ravensong, Starman, Flapper

BPAL current LEs: Nothing is Unexpected, Nothing is Foresworn × 1 Over-Acuteness of the Senses × 1 Singularly At Ease × 1 The Dead Hour of the Night × 1 Samhain 2017 × 1
Those are the ones I will buy from The Lab if I don't get them during SW, but since Nothing is Unexpected will be coming down before the Weenies, I might buy just that one to be safe if I haven't received indication not to in the next few days. It comes down in October.
I am also happy with half bottles, so if you wanted any of these scents for yourself and want to split them, I don't mind at all! Preferably in the original bottle, but at least in a 5 ml bottle, because I get overwhelmed by keeping track of little decants.
I am also really interested in trying all the dead leaves (except the candy corn one), and Pumpkin Spaces of Snake Oil and Perversion, but for all of those I would want just one decant, unless you're getting yourself the violet dead leaves scent, in which case I would love to receive a partial of it.

Anyone like/want calendars or dayplanners? sure
If you like stationery, do you like plain, colors, images, or specific DON'T LIKES? i don't need stationary, but other office supplies are nice, and as far as style, same as all my other answers
What about general desk stuff like cool colored paperclips and post it pads? maybe?

Would anyone be interested in having any of Abigail Larson's artwork (either as a print or on something, like a pillow, blanket, or t-shirt)? https://society6.com/abigaillarson yes, she's one of my favorites

do you collect the art cards that BPAL sends out? Any in particular that you are looking for or definitely don't need? i like them and i use them as house decor and for random art, but i don't collect them in a "gotta catch 'em all" or "cataloging what i have and don't have" sense

Do you like this beautiful art, and she makes stickers and prints...SOOOO gorgeous: https://www.shannatr...om/paperprints/ yes, i love it

Favorite animals or wild creatures or mythological creatures? rabbits, foxes, cats, snakes, faeries, elves, mermaids, witches, ravens

would you like any swag from the Depeche Mode concert? (pins, posters, shirts, program, dunno what they'll have!) no thanks, but i might end up going to it



Is anyone here into zero waste, plastic free living, urban homesteading, or any simplicity/minimalism-esque lifestyles? If so, could you use any tools or equipment? i'm not an active zero waste practitioner, but i always try to make my life more green, so if you find some kind of cool thing to encourage this, i'm game!

Are you interested in anything from Bath & Bodyworks? Which products and scents do you like? no thank you

Pumpkin or Zucchini bread? both

What kind of homemade cookies are your favorite? nutella-stuffed chocolate chip, shortbread in pretty much any form, pumpkin drops with cream cheese icing, something involving toffee...

Could you use a muscle rub? (We make ours on the lunar cycle and it has menthol, wintergreen, habanero, cayenne, olive oil, st. john's wort, arnica, beeswax, calendula, and ginger. It tingles. We call it "Thunder Butter". If you have really really super sensitive skin, I would recommend against it. And don't take a hot shower or open all of your pores before using it.) sure!

Interested in trying some of our rose petal (rose petals, sugar, everclear) or lavender vanilla bean (lavender, vanilla bean, vodka) liqueur? both!

Want some honey from the bees on our property? 100% yes

Would you like some homemade jam? I have blackberry, rose petal, strawberry rhubarb, peach, and cherry. yes. my flavor preference of these, in order, would be strawberry rhubarb, rose petal, blackberry, cherry, peach.

How about some homemade candied jalapenos with garlic cloves? I have regular and with habanero. tbh this sounds weird, but i love habaneros, my husband loves jalapenos, and we both love garllic, so we would definitely have fun trying them!

I didn't dry any apples this year but I was thinking of heading over to Green Bluff and seeing if any honeycrisps are left. I have a commercial dehydrator so let me know if you are interested in any "Apple Crips" (as voodoocatwoman calls them!) I wash, peel, core, and slice before dehydrating. i would eat these

Do you need any kind of dice bag, tote, project bag, cosmetic bag, pencil bag, or whatever? I have lots of bag patterns and fabric. We make bags under the name Twinkle N Twilight.
Or how about a couple of pillowcases? i could make use of a dice, cosmetic, or penil bag

Would my witchee like this to warm up the fall coffee cup?? https://www.truelemo...gory-s/1871.htm hmm, i don't think

do you like to take baths? if so, do you like oils, salts, things that fizz, all of the above, none of the above? Yes to all!

Are any witchees into coloring books? it's not a hobby of mine, but i would really love one of the ones Faerie Magazine sells on their website. i got my brother one of those for Chanukkah and it looked wonderful.

If I were to find an adorable autumnal/Halloween-y dish/flatware/etc. design, how many settings would be needed in your household? well, there are two of us, but we generally get more than two place settings of a given thing, so we can use them with guests... we also have plenty of dishes, so i would only want this if it's something truly fantastic/perfect for me. the flatware idea sounds cool, though - we just have one regular, boring set of flatware. and a table runner and/or placemats and napkins could make our table more festive while paired with dishes we already own!

Do you like Broadway shows/music? i love Broadway, but I don't need any merch or CDs

I'm heading to NYCC in October! Is there anything I can get my Witchee while I'm there? Apple III - and really if you get yourself any BPAL there and wanted to just decant me a tester, almost all of them sound appealing

Anything catch your eye from this site (globalgirlfriend.com)? definitely, i'm all about fair trade sustainable things

Do you have any favorite, lesser-known stores? Especially ones that sell hand-crafted or independently made items. Mercado Global, Reformation, Soko Jewelry (not related to Soko Glam)

Are you interested in anything from Think Geek? http://www.thinkgeek.com there's always stuff on there that appeals to me

Aprons: Do you wear them, do you want one? I own one and never remember to use it

Would my witchee be interested in something like[a striped knitted doll]? nothx

Socks: any particular style or fiber preference? natural fibers that feel good and aren't so thick as to change your shoe size. favorite lengths are ankle, boot, and knee.

What about partial-full bottles of BPAL or BPTP? of course - but if it's BPTP bath oil, please make sure it hasn't gone off

So what are your favorite fandoms? Alice in Wonderland/Through the Looking Glass (but not the Tim Burton messes), GoT, LotR, Harry Potter, several comics (Sandman, Saga, Monstress, Rat Queens)...i also like Name of the Wind, Elder Scrolls, various historical figures and periods...
some general thoughts on merch are, as i've said before i like things that are functional rather than toys, dolls, random centerpieces, etc. but also i really like merch that's subtle. like a drinking vessel, shirt, etc. that has the name of a fictional business establishment on it or the sigil of a fictional house (but not the name or slogan) or something, where the name of the actual fandom is either not present or really small. (speaking of shirts, i could probably use a hoodie, since i'm moving back to the north and my only hoodie is yellow) and i strongly prefer merch that's officially licensed.
--this Elder Scrolls hoodie sums up everything i love in merch, and also just looks like a really nice hoodie: https://store.bethsoft.com/brands/the-elder-scrolls/ladies-dark-brotherhood-angl-hoodie
--and tbh i would also totally wear this one even though i am totally a stormcloak and not a legionnaire: https://store.bethsoft.com/apparel/womens/hoodies/ladies-long-imperial-dragon-symbol-cowl-hoodie
--there's a lot of great looking, subtle merch on https://thetinkerspacks.com/ which also reminds me i'm totally down with fictional games (like a game that exists in a fictional world and has now also been made real), or games/puzzles of a fandom i like.
--and now this answer is getting totally off topic, but THAT reminds me i also play Cards Against Humanity and Magic the Gathering, and could always use new expansions.

I'm in France at the moment, is there anything here you might like? I'm in Provence, the land of lavender, so if you like that flower in particular just say so! fancy sea salt

are you into divination? What kind(s) do you currently do? Do you want more books and/or tools for that type (e.g. new tarot cards, new runes)? Is there a new type of #divination you've been meaning to try, and if so, are you looking for the tool, a book on the subject, or both? i do Tarot and there are always decks i'm lusting after. i have two sets of runes already and haven't gotten good enough at them to necessarily want more at the moment, but if you saw a set that seemed to scream out for me, i would love it.

World my Witchee be interested in a Tarot or Astrology reading done personally? sure! especially something like a personalized astrological forecast for the year ahead.

Does my Witchee need any magical supplies? if you wanted to send something around early-mid October to bless and/or cleanse my new home, it would be appreciated.

Would you be interested in any of the seasonal (or regular) soaps from Cellar Door Soap (https://cellardoorbathsupply.com)? i'm not big on bar soaps. a little sample or two tossed into a package would be nice, but i definitely don;t need a bunch of full sized ones or anything like that.

Favorite gemstones? emerald, all black stones, labradorite, moonstone, opal, anything sort of color-shifting and magical looking

If you enjoy jewelry do you like discrete and elegant, flashy and gaudy, small and light, or large and chunky? i feel like this is in the questionnaire? just in case, a little bit of each. i've been coveting the Teardrop Choker from Soko and i wear a delicate ouroboros ring most days (plus my wedding bands), but i also often wear a dagger ring, a rattlesnake spine ring, big dangly earrings, and sometimes bracelets with precious gems. i'm kind of all over the place.

Any love of pirates or SCA? pirates 100%. SCA seems up my alley, although i'm not currently involved. i love cosplay of all sorts.

Is there anything you would like from Disney World? probably, but i don't know specifically

Are you a Potterhead? If so, to which house do you belong? Ravenclaw

How do you feel about chokers? i'm a 90s bitch. so, yes. love them.

Would you like some Halloween or other themed decor in the form of a banner, something like this http://www.etsy.com/...n-decor-vintage? If so, would you prefer a traditional style or a vertical door type? thanks, but it isn't really my style.

Do you live near a Trader Joe's? If not[...]? i do live near them!

Do you like to cook and/or bake? Could you use any specific ingredients (spices, oils, salts, extracts, etc.) or kitchen utensils/gadgets? i love to cook and bake, and am always interested in trying new spices, fancy salts, herbs, etc.

Who would love some USPS eclipse stamps? sure!

Do any of you potential Witchees have any kitties, puppers, or youngling humans you want spoiled in your packages? What treats or toys do they like? two kitties and a pupper, as detailed in the questionnaire. pupper loves squeaky toys, and i love when they're the kind that's hard for her to gut - brands like Tuff or Tuffy or something. the cats could use a laser pointer. all of the fur babies love crunchy treats, as long as they're natural, organic, meat-based, etc.

Is there anything you want from the trading post (or trading post etsy) that is available to order right now? (Fatherhood, Puppers, normal GC things) Yes, but i don't want to risk hoping a witch will get them for me, so i'm probably going to get them myself - that said, if this is something my witch specifically wants to do, please send me an ecard or message through a ninja or something and i'll update this question!

Are you a gamer? If so, what games are you currently playing and is there any merch for that game you'd love to have?-
If you are a gamer do you have a steam/gamestop/amazon wishlist? i have a Steam wishlist. i'm currently playing Ori and the Blind Forest and Civ 6. i'm not much into merch.

How do you feel about the following scarf options (assuming you're into scarves)? no, thank you

Like beer? What styles most appeal to you? sours, as in the Belgian style that occurs through fermentation methods, rather than the American trend of putting lemons, white wine, and other weird things in beers to make them sour. also kolsches, lagers, non-hoppy ales, stouts.

Like booze? What kinds? basically all of it. i love scotch the most, but also tequila, rum, and gin - but i like good quality stuff. it doesn't have to be expensive - my favorite vodka is Tito's, and one of my favorite scotches is Glengrant 10 - but just, good. usually not the most well-known brands, but they also don't have to be obscure or anything. i love Auchentoshan and Aberlour scotches, The Botanist gin, Kah and Calle 23 tequilas (and Don Julio, but that is faaancy), Illegal and Del Maguey mezcals, and have recently started exploring aged rums. these brands are all just examples - i love to try new ones.

Like Wine? What kinds? many kinds. nothing too sweet.

Would you be interested in a set of hand-made hair falls? sure!

Here's a great local soapmaker I love--y'all see anything you would like? https://littleseedfarm.com/ pretty much any of it except the bar soaps and baby stuff

What are your favorite/preferred Halloween/autumn icons/images? i don't like spiders or anything cheesy/kitschy. i do like cats, witches, and moons.

Do you eat candy, and if so would Halloween candy be welcome? Specialty candy from local or unusual sources? Chocolate? i think this has been covered, but i'll add yes to local or unusual sources

Do you want Fidget spinners, desk toys, or other frivolous things that you look at and decide you don't need enough to spend $ on but would make you happy to have? no thanks

Any zentangle lovers, people who would like to try it, or would you want a piece of someone else's zentangle art? no thanks

Any love of hair toys, clips, ribbons, fascinators, mini hats, etc? yes to all. i have long but fine hair, so nothing that requires a gloriously thick mane to stay in place, but otherwise, yes to all.

What local goodies may be of interest? Local Honey, jams,candy? always all the honey forever! also jams, and maybe candy.

Are you interested in any subscription services like serial magazines, Birch box, ipsy? i stopped subscribing to Petit Vour's box because i couldn't justify the cost right now, but it's not actually expensive and i loved it, so i would love a subscription to that.

Would you like funky Halloweenie costume makeup like Gothic eyelashes, nail effects, black lipstick, etc.? no thanks

How do you like to listen to music? CD, 8 track tape, mix tape, Pandora or Spotify, I-tunes? Spotify and vinyl

Do you prefer reading on Kindle or actual book? What kind of books do you like? Would you like to be surprised with a scary, classic, horror book? if a book is really long i prefer to read it on Kindle, for transportability purposes. I also do audiobooks a lot, and since i'm setting out on a 35-hour drive next week, i will be in great need of those. i have an audible account - argverret@gmail.com - i'm not sure if it's possible to do gift cards, credits, etc. for someone that way, but if it is and you would like to, that would be lovely. physical books are great for shorter books, collections, anything illustrated, anything rare/special/first/limited edition. sure, a classic horror book would be great. i love to read that sort of thing in October.

Candles, Incense, or wax tarts? Do you have favorite brands or Weenies scents for the home? Would you like to receive a wax tarts burner, incense burner, essential oils diffuser, or Halloweenie themed candle holders? candles, especially from Burke and Hare Co., DL & Co, Black Phoenix Trading Post. i also love candles that come in tea glasses, little antique glasses, etc. - basically candles that i can repurpose after use. I have a plug-in wax melter, and I like it a lot, but it's mellow enough that the wax tarts kind of last literally forever, to the point where it's hard to change scents. it would be nice to have an alternative one that burns through the waxes at a pace that lets me change scents after a while without having to melt the whole thing and dump it while still melted. i do like incense, but i'm fairly picky about it. i could use some charcoal disks, or a burner for non-stick incense.

Witchee: are you interested in crafting materials? none that I can think of at the moment, especially since i'm mid-move.

Anyone like handmade critters, stuffed animals, or custom repaints? a custom repaint of an old school My Little Pony would be pretty sweet, but generally speaking i try to avoid toys because i'm clutter-phobic and they don't serve a function

Would anyone like a donation made in their name to a cause or charity? Sure!

Please provide wishes from the last two updates? Nothing is Unexpected, Nothing is Forsworn perfume, Pickle hair gloss, and about half of the Fatherhood Liliths (i forget which ones, but i definitely named them elsewhere on the forum). frankly, i love to support BPAL/BPTP directly so i almost always buy from updates, so if you do plan to get me anything, it might be a good idea to tip me off so i don't double buy

if you were to receive something hand knit, what type of item would you like? hat, cowl, handwarmers, etc. and what color(s)? A cowl would be nice, or a floppy hat. Please, no gloves, scarves, or fitted hats - I have too many.

- would you use knitted washcloths? probably? Are you allergic or sensitive to any fibers? sometimes wool makes me itchy, and i like to pretend I'm allergic to polyester.



Do you like and/or want anything from Elements and Artifacts? Everything, pretty much.



Would you like something hand sewn by your Witch? A dress, shirt, skirt, infinity scarf, something else? I think I touched upon this in the questionnaire. A dress or infinity scarf would probably be my most treasured of these options.

I'm in Japan, is there anything specific from here you would want? LOTS of stuff. Specifics? Really good matcha, any other green teas you love, matcha flavored candies of basically any kind, Pocky in any flavors that don't get imported to the US, basically any kind of treats, maybe some Sailor Scout stuff (Mars is my favorite, but Jupiter is my cosplay because I have long brown hair and green eyes), Miyazaki related stuff... i guess you can't mail me sushi, so maybe that's all as far as specifics....oh, actually also mythological art, particularly related to kitsune-tsuki or tsukimono-suji! and maybe some cat related stuff? a parasol? any kind of crazy gadgets that the US won't have for several years but aren't crazily expensive in Japan?

How do you feel about nail wraps? No, thank you.
Are there any hobbies or crafts you've been thinking of trying, but haven't had the chance yet?
i can't think of any off the top of my head, but i'll let you know if i edit this answer later on

Would you want to receive a custom spell kit or magical tea? If so, what purpose would you want it to be for?
sure! basically anything related to prosperity/wealth/work, health (physical, emotional, or spiritual), spiritual/magical connections/boosters/etc, clarity, cleansing/jinx removing...i guess almost anything except love spells

Do you like poetry?
as long as it isn't Vogon or a result of skáldfífla hlutr.

Would you be interested in things from Future Primitive? (http://futureprimitivesoap.co.uk/)
i would love to try this brand, which i've been curious about for years. pretty much anything except perfume or bar soap.

Are there any UK things you'd like to get?
could you kidnap my best friend and mail her to me?

umm, a cheese and onion pasty, if you could make that happen!

Are you into podcasts? If so, what are your favorites? Would you like any merch related to any of them? i do like podcasts, but do not want any merch. my favorites, in case you still want to know even though i don't want merch, are Cast of Thrones, TANIS, The Dirty Bits, The History Chicks, Stuff You Missed in History, Down at the Crossroads

Would you like something from Nui Cobalt Designs (https://nuicobaltdesigns.com/)? yes, always, love Forest and her stuff.

Or maybe some of Christina's lovely Halloween candles at Sihaya & Co. (https://www.sihayaan...lection-candles)? very much so! also Burke and Hare candles.

ILNP? Who would love one of their awesome holos like MEGA or one of their amazing chromes? these look beautiful, but i can barely remember to use the nail polishes i already have.

Do you enjoy stationery? cute/quality notebooks, washi tape, stickers, fun pens etc. not stickers, but the rest, yes.

Are you interested in anything from Cocoa Pink? no, thank you.
- Or Haus of Gloi? probbbbably not? maaaaybe? i'm not sure. i haven't been impressed by their scents in the past, but i remember liking the texture of their pumpkin butter lotion or something like that.

Would you be interested in a Halloween wreath? yes, if it's more on the beautiful, classical, gothic-inspired end of the spectrum, or very simple and fall-like, rather than anything super hokey.

Have you seen this: https://www.bustle.c...llection-80733? (Lush Halloween collection.) And what would you like? no Lush.

Are you interested in anything from the Moonalisa Halloween update? i realllly enjoyed her stuff the one time i bought it, but i haven't bought anything since because she always seems to have shipping problems, stock problems, etc. that make it too much of a hassle. receiving her stuff as a surprise, on the other hand, would be very nice. i liked the bubble baths, and would be very interested in trying her candles, sprayable hair shine, bath salt soaks, carpet fresh, cocoa cream or any lotion really, ghostly misters, milk bath, scrubs.

What are your coffee and/or tea preferences?
- Coffee: whole beans or ground? whole beans
- Flavor and roast preferences? unflavored, medium roast, notes more along the lines of chocolate and berries rather than citrusy
- Tea: black, green, herbal, flavors? black, green, white, oolong, rooibos, herbal - i can't really think of a base i don't like in some form. i can always do with more genmaicha or matcha, and i looove herbal teas that are caffeine-free but contain other stimulant/focus herbs. the gingko clarity from Yogi is a great example.
- Loose leaf or tea bags? both/either
- Anything specific you don't like? fruity teas aren't usually my favorite. there was a Teavana called Strawberry Slender Pu-erh that i adored, though. but for the most part if i'm in the mood for tea, i'm either seeking the simple, natural tea flavor, or the effect of a certain herb, or a delicious blend of herbs and spices. some of my favorite teas (other than matchas and genmaichas) are moroccan mint (no particular brand), Elevenses from Adagio, Honey Lavender Stress Relief from Yogi, and Christmas in Paris from Stash.
- Are you in need of any gadgetry? one of those time-turners Hermione has in The Prisoner of Azkaban would be great!

i could use a new tea ball or two, and/or one of those things that looks like a little pitcher, you brew your loose tea in it, and then you set it on top of your mug and it drains in

How would you feel about receiving a hand-painted container for your bpal and/or other treasures?
- would you want a big wood box (~50 bottles), a small wood box (~20 bottles) or a tin for carrying imps around?
i would feel great about it, and would make use of any of of those sizes.

Who is into K-Beauty (Korean beauty products like sheet masks)
- What are your faves if you are?
- If you aren't would you like to try something?
no, thank you.

What are some NEW things you've gotten interested in this year? Could be anything, from a new hobby, new genre of book, new healthy way of living, new fav brand of whatever...
digital drawing, mead making

What are your feelings about Scooby Doo?
positive, but not interested in any Scooby swag

How do you feel about indie makeup (read: loose eyeshadow, blush, highlighter)?
as long as it's cruelty free, doesn't make intentional dupes of other brands' products, and doesn't make unlicensed use of other people's copyrighted materials

I drink this stuff almost everyday would anyone else be interested in trying it out? https://www.criobru.com/
yes, i would.

Would you like one of the Halloween Teeturtle shirts?
https://www.teeturtl...alloween?page=1
some of these are super cute, but the t-shirts i already own don't get enough use. i could use a long sleeved tee or two, though, so if BPTP comes out with any this season, that would be on my list!