alas, more SW2015 tidbits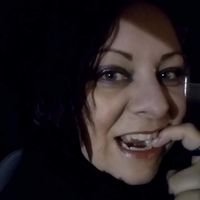 What other companies have you tried, want to try, or test? I originally got some frimps from my Enabling bestie in 2008, sat on them, and found them in 2013. I had Anactoria and Antikythera Mech in BPAL, and got 1 Possets- Cir De Coeur (LOVED IT, it spilled tho ), 1 NA- QwbHwt, and a few Violette Market. They were all old. I own Kitchen and Manon by SS, and recently got my first imps of Arcana. I have been able to sniff more NA and an Orpheus. I am ignorant to other companies, but have some history with craftier/expensive smaller companies like Creed, Bond NYC, L'Artisan, etc.
Analog, digital, or both? the genres of music I love most are not ones you usually find in normal stores. There is 1 store in Philadelphia, 40 mins from me, that is a goth/industrial mecca, and it's prolly one of the last of it's kinds. Used to be called Digital Ferret, it's name has changed, but works with IsoTank, Metropolis, and other small labels. I wish I could afford to buy cd's like I used to, my aspirations leaned towards Dj'ing, so anymore, I use iTunes, and free radio programs, but I still love music. I consider myself behind the times on what's current. I used to hit concerts all the time, as well as clubs, but adulating and tight funds, or my effin bad back, get in the way. I will be hitting a few concerts, yay!!!! in the next month.
Do I have affinity for any specific animals? Bats, ravens, wolves, dragonflies, and foxes.
Kitchen needs or wants....let's put it this way. WE could always use gadgets, but make due with what we have. Seasonings wise, I've really been into flavored salts, oils and vinegars. I put that shit on everything! lol
ok...now I need to start looking at online shopping ideas I can give links or examples to for ideas for my witch