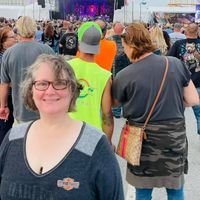 Entry posted by deazinn ·
1,040 views
A question, witchees: if you are into tarot, what is your favorite card? I'm still learning....
And another question: would you like your own set of handmade rune stones or worry stones? I love worry stones...
Coffee, tea, hot chocolate, cider, or none of the above? In order: fresh cider, tea, hot chocolate, then coffee. However, I have a good bit of tea.
Gum, hard candy, soft candy, or none of the above? If it's not chocolate, save your money
Loose tea or tea bags? Do you need anything for your loose tea? (Filters, presses, etc.) I love David's Teas, other than that, I'm good. I have a ton of accessories all ready, but I do love cool tea cups!!
Do you do Goodreads or LibraryThing or a site like that? If so, can I see your to-read list, please? I'm on Goodreads. Please feel free to friend me. Also, all books on my Amazon list are to read....I keep Amazon very updated.
Zombies; Yay or Nay? Yay!
If you have cats, do they like catnip toys? If you have doggies, would they like a super-reinforced canvas toy with a squeaker in it? My doggie says yes!
If you have kids, what are they into? my kids are grown....
How do you feel about wearable knitted lace? Shawls, wraps, and the like? I love, love lace. All kinds.
Looking at the warehouse, I notice that our lovely Greenwoodtree is able to do chart readings and/or forecasts at a very reasonable rate. Is this something you would want? Sure!
I live in Japan. Anything you would be interested in from there? cell phone charms; I put them on my Nook
Candy Corn: yes, no? Bleah, no
WHAT MAKES YOU LAUGH YOUR ASS OFF!!! movies, comedians, black humor, your partner, a comic strip? what? All of the above; some of my favs are Calvin and Hobbes, Monty Python and Hyperbole and a Half, Stephen Wright
You are meeting up with someone on a casual lunch/early afternoon thing. This person is someone you want to impress/look good for (for whatever reason, not necessarily romantic, and not necessarily for business either). What would you look like, given the contents of your wardrobe/etc? Jeans, Fluevogs, a plain tshirt, a jacket, a scarf which picks up the color of the tshirt, cool earrings and my bling (rings, watch, bracelets and possibly a necklace) I've been wearing the long necklaces lately....
You are to be let loose in a clothing store of your choice, to pick a full outfit, down to the shoes, the accessories, etc. and things would be altered to fit you if needed. What store would that be, and what would you look like? Hmmmm; tough one. It would have to be a really high end department store; I would probably get a fitted white blouse with lace cuffs, a really cool vest made of some sort of brocade in autumn colors and pretty brass buttons, a full, mid-calf length black lightweight wool skirt, a petticoat in 100% cotton for underneath. Either leggings or tights, a pair of thick, soft, lace trimmed anklets, and a pair of Christian Louboutin riding boots in black. I would have a really cool cameo necklace that fits close to the throat, with a pretty strand of peachy pearls that hangs long, and matching earrings. A Movado watch. A true golden topaz, not a citrine, ring. A pretty scarf to tie in my hair, and a pashmina in rich deep brown to drape over my shoulders.
You open a box from the post office to reveal the 3 things you want most right now. What are they? (caveats: size doesn't matter, but they have to be tangible/buyable). Oy. a pair of cashmere or soft wool bedsocks from Sock Dreams, a sheepskin rug for beside my bed, and a Hermes Birkin (yeah, I'm a lemming. It's a really cool purse that I would be scared to death to carry.....)
The end of this month I'm going to Scarefest, the big horror and paranormal con in Kentucky. (www.scarefest.com) If I were your witch, is there anything you would like from there (skull jewelry, art prints from an artist that catch your eye, etc), or anyone whose autograph or photo or such you would dig? I don't know, but I trust you!
What is your holy grail "I'd kill to just have one drop in an imp" bpal scent? Storyville.
Are there any existing Weenies that you have your eye on, but haven't gotten around to getting? Punkie Night, if it's available
if you wear earrings, do you have pierced ears? Yep, and I love earrings, especially the threaded ones...see my Etsy for examples!
My new job is at a consignment store where we have all kinds of designer brands for very reasonable prices. Are there designer clothes/purses/sunglasses that you desire/love? (Give some indication as to your "style" as well. For example, do you like bohemian-style frocks in lavender? Crossbody purses in black? Sunglasses that are round and bug-like?) I would love a pair of Ray Ban sunglasses, a black leather Coach glasses holder, a pair of Ugg slippers in size 7...I have two pair of Uggs and wear them all of the time......
I realize that we had a similar question in the ?aire, but I need you Witchee-s to list at least 5 items, each ranging $20 and under from Amazon.com or Walmart.com.
I have an Amazon wishlist. Pick 5!!
In the meantime, let me know what you like to do on the Internet to kill time. Flash games? What are your daily websites/blog visits, or favorite YouTube videos? Pinterest!!! Also Ravelry, Bpal, and Facebook.
And what are your favourite characters from your fandoms Um.....all of them?
My Little Pony... Cute or meh? Meh
Lip balm - tube or tin? Tube, unless it's a Cargo tin lipgloss
Would you like to receive a journal or sketchbook? How about other pretty paper goods like post-its, notepads, bookmarks, letter paper/envelopes? I love paper goods of all kinds...
Are you interested in audiobooks? If so, any specific titles? Nope
Bar soaps with some scrubby bits, yes or no? Yep
Do you need any small electronic gadgets like flash drives and the like? I would love to have some flash drives
Would you like a pair of knitted socks? Love a pair - I wear a size 7. Thick ones, preferably
Do you have any use for knitted dishcloths, facecloths, etc, especially if they were fandom related? Sure!
Do you subscribe to any sample boxes, and if so, which ones? Would you like to receive some samples? No, not any more. I love samples of stuff. Love.
do you have a problem with nudes??? If not, do you prefer male or female? Nope, either is fine...
Paintbox Soapworks: Interested in anything from her? I adore her Poinsettia scent, and can always use scrubs. Also, I've marked stuff from her on my Etsy list
are there any other e-tailers you're desperately wanting to try? if so, any specific items/scents/etc?
Surprise me....I find the coolest things that way
ThinkGeek: anything interesting to you on there? Too, too much.....pretty much anything Star Wars or Firefly related.....
What's one thing you want, right now, that you're having difficulty finding? Um.....???
Who here is going to be picking up JK Rowling's new book on Thursday? Believe it or not, I didn't know she had a new book out. I'm interested in reading it, but will probably get it from the library.
What do you do to take care of yourself when you're having a rough day (sick, life not going your way, whatever)? soft pajamas, warm thick socks, my favorite pillows, my down blanket, cuddle into a nest on the bed or in my loveseat with a cup of tea with honey and a good book, or if I can't concentrate on a book, pop one of my dvds in to watch. Chocolate fudge/brownies or ice cream to eat. Dog curled up at my feet. This happens way too often.....
I'd love to get a thick, soft cashmere lap blanket, but finances won't allow....
favorite and least favorite baked goods? Cake, brownies, cookies for the win. Muffins are okay. Pies, not so much.
what size T-Shirt do you wear (standard AND babydoll)? Standard crew I like in L or XL. Babydoll I need at least a 2X
I found a fantastic little shop while traveling that had unusual jellies and jams. Would you be interested in trying something like Georgia Moonshine Jelly or TOE Jam (each letter stands for some kind of fruit, I don't remember which ones) or something similar? How about homemade jam in general?
Sure, as long as there are no blueberries involved....
Would you be interested in homemade herbal remedies and tinctures? Yes
Owls? they are okay....
Do any of Villainness' Soap Box exclusive scents interest you, especially any of the Smooches/Whippeds? See my SW help link
Puddin' just put a shitton of old Lunacy shirts on the BPTP Etsy! Any ones interest you? Yes. I would really like a XXL Blue Moon Bella T. In the crews, I am hoping for a Moon of Ice tee, and this year's Pink Moon tee.
Witchee, do you want anything from the Haunt update coming up on 10/3? I know it might be too early to say, but if you could look at the preview on the night of 10/2 and let me know if you want anything... Yes. I need at least 2 of the Blood Orange and Cacao scrubs, and I'm curious to see what else will be up. Oh! I fell in love with the Milkflower soap....yummy!!