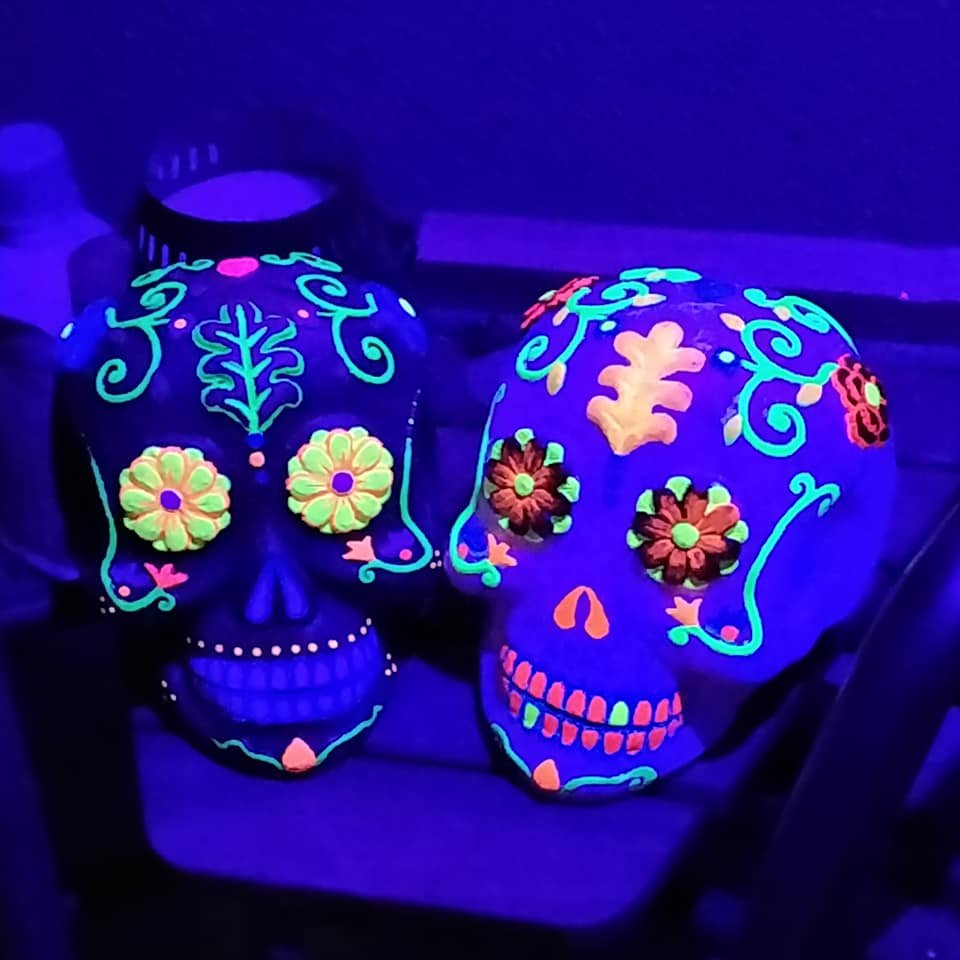 I just have to start this ....Cellar Door just posted their Halloween goodies - I love their scents, soaps and candles - which of these might you fancy? https://cellardoorbathsupply.com/collections/halloween-fall-collection?_kx=wJHWHTN2OASY0k5c5ZR301X0_-q-0iaglCjL2XDqO-E%3D.SE8AhX   If you'd like handmade knit items, are you good with soft wools or do you prefer acrylic only?   I can't do angora but wool or acrylic would work.    Are there any items you'd love for fall/halloweenie? (Ie mittens, hat, fingerless mitts, cowl, legwarmers) Legwarmers, cardigans and all that would be fun.   Anyone fancying the new Paintbox Soapworks or Witch Baby Soap Halloween launches? Indian Summer streusel and scrub would be fun.  From Witch Baby, the Black Mass Bath Bomb would be nice.   Would you be interested in an adult Halloween coloring book? I recently backed on kickstarter for one by a local gothic art market near me and it's due in during the swap period.  No thank you.
  What are some OCYL brands you've been wanting to dabble in?  Yes, I'm rather into eNVie and Nocturne Alchemy. 

 I am working on making bath bombs.  Would you be willing to try my creations?  How about wax tarts?  What type of scents do you favor?  I would  love to try anything!  I like scents focusing on resins and citrus along with cinnamon, clove, and nutmeg. 

What kinds of home smell good things do you like? (I.e. incense, candles, wax melts, felt scent balls, essential oils, linen spray)  I like linen spray like Cathouse form BPAL or Fae Forest.
  My question for the fellow pumpkins would you like anything from the bath and bodyworks Halloween line? 🤔 Autumn Rainbow, Sweater Weather, Twilight Woods, Sunrise Woods hand soaps would be great.  I ADORE the mushroom night light.    Do you have any interest in spooky squishmallows?  Zelina the Dia de los Meurtos cat would be amazing.  Want!!!   And would you enjoy spooky stationary?  Yes, please.  Spooky, gothy, or Dia would be amazing.   I know a lot of us are witchy and have deeply held beliefs about the materials we use as part of our practice. If you're one of those individuals, are there certain herbs, crystals, etc that you do not want to receive?   I'm pretty open, although I have plenty of raspberry leaf and selenite. I'm not really a dark magic kinda person.     When you have a distinct preference for one holiday over another, What are some cross over items that actually work for both? Dia de los Meurtos and Halloween/Samhain are all wonderful.  Black cats, bats, purple and black candles cross over well along with candles.    One question (that is actually several questions) -- Local honey? Infused/flavored honey? Local infused/flavored honey with Southwest notes (jalapeno, other pepper, mesquite, acacia)?  Yes!  I would love specific floral notes from your locale.  I would adore trying mesquite or acacia honey.    Does anything from JiJi Knight spark your interest? https://jijiknight.com/  I like the art, but not seeing anything I'd need.   Any spooky/weenie DVDs you're missing and would like in your collection? NMBC? the Crow? An old Hammer film? Dark Shadows? The Omen? Sleepy Hallow?...?  Dark Shadows, Omen, fun Halloween horror films would be fun.  I would love some of the Crow sequels as well.  \   I just got the email that the Ectogasm Halloween Collection is live. Does anything interest you? https://www.ectogasm.net/collections/halloween Yes!  I Need the Blood House.  This is exactly from a dream I had several years ago.  Super uncanny to see it as a pin, but I have a might need!   On a scale from Paprika Is a Heatwave to Let Me Eat a Peck of Pickled Ghost Chiles, how spicy is too spicy, and how spicy is just right? No nightshades at the moment, but my husband would love any sort of pepper.  He's friends with habanero and ghost pepper (as am I normally).   I make lightweight hairfalls- would you be interested in some? Either to incorporate into a costume or just for your own year-round use? If so, name your colors and preferred length, and if you have any fiber allergies you want me to take note of!   That would be fun.  I like purples and dark browns to blend with my own hair. I like choppy, punky lengths.  Only allergy is angora.   If I were to make you a set of arm warmers/ fingerless mitts, what color(s) & style would you like? Options- Long or short? Solid - one fabric Stripes- bands of colors sewn together- like fun black & red, black & purple etc.  I currently have some nice cashmeres.   Ooh, cashmere!  Striped in black and purple would be fun along with gothy-toned ombres (black, grey, red, deep red).   Homemade canned and baked and concocted goodies? Any aversions?    Yes!  Just can't have spices for pickling like allspice and clove.  No aversions to canned, but can't do baked unless it is coconut, tigernut, or cassava flour.   If I could make you some of my fudge, what would you prefer? If you can make a gluten-free one, I could try some.  I'd be open to anything.

  Are you open to trying different indie perfume houses if I find a scent that I think you'd enjoy?  Absolutely!  I would love woodsy resins and orientals.   I love making stickers!! If I could design you some stickers, what would you love to have? It could be halloween themed or not! My art style is a bit simplistic, cartoony, and cutesy, I usually draw fairies but last year I did a swap on reddit and made someone a bunch of halloween dog stickers lol. (Sidenote: They probably won't be waterproof, but they're glossy vinyl!)  Please, that would be so fun.  I am down for bats, cats, witches, and other spoopy things.   I've got a bunch of small round labels perfect for bpal 5ml label lid art! Name your top 5-10 scents that you'd love to have lid art made for! Just as a fun little extra in your package if desired  (Could also work for other companies with lids just like the BPAL bottles) Dorian, Velvet Cthulhu, Cykronashian Catnip, Mme. Moriarty: Misfortune Teller, Mabel.   I'm going to Disneyworld in late September! I'll be going to all four parks and attending both the Not-So-Scary Halloween Bash and Epcot's Food and Wine Festival. Is there ANYTHING from Disney that you would like? Is there something you collect that perhaps you'd enjoy a Disney version of (tea, socks, enamel pins, plushies etc etc etc)??? Please!  I love Disney villain enamel pins.   Would you like any decor from Say Target, Homewood, or William and Sonoma? Is it dark and spooky?  Then I would appreciate it.  Homewood has some really neat items.   I am going to Dragon Con for the first time! Which of these BPALs do you want? https://us4.campaign-archive.com/?u=50266fc02a3b75767125e0ed2&id=9bf4d797e8  Peach Absinthe, Ridiculously Sexy Peach.  Even decants would be loved.   But, I am going to Dragon Con this weekend. Is there anything you would like? Lab wise or just general geekery I'm pretty open.  I've never been, but I do love fantasy items.   Would you be interested in a bag like we sell in our etsy shop?   https://twinklentwilight.etsy.com I like the Spooky Chandelier.  - if so, but you don't see fabric you like maybe link to some photos of fabric you like? - we can do small box bags or pencil / cosmetic / notions type bags too.  or with a drawstring on top instead of a zipper.  I like the zipper. - you don't HAVE to use them just for knitting/crochet, you can use them for cross stitch or even not as project bags.   If you are a yarnie, are you interested in a ceramic yarn bowl?  I have an extra Harry Potter (I know, I know) one from Lennymud that I bought before the whole JKR debacle and it didn't profit her in any form anyway.  I believe it's Gryffindor themed. I'd be happy with a galaxy yarn bowl.   If you are a yarnie, I'd love to gift some yarn from my stash so give me an idea of colors / weight / material / yardage you'd like.   No thank you.  I have a huge backlog myself.   Are you interested in trying some of our "thunder butter"?  It's like tiger balm or icy hot, but with herbs, beeswax, cayenne or ghost pepper, menthol, wintergreen.  cbd version or no? Please!  CBD!   I need to inventory our canned goods but do you like things like peach jam, cardamom plum jam, peach butter, plum butter, pickles, applesauce with nothing added, applesauce with red hots, dried apples or pears, bread and butter pickles, dill pickles, blackberry jam, huckleberry jam, candied jalapenos?   Peach jam, plum butter, peach butter, dried fruit, butter pickles and huckleberry jam all sound amazing.   Any interest in things from our garden like dried mint, catnip, lavender, rose petals, dill weed or dill seeds, sage, rue, mugwort, rosemary? All of the above!   How about alcoholic things like rose petal liqueur, lavender vanilla bean liqueur, various flavors of mead (chocolate orange, strawberry mango, whatever my son is making)? Pose petal and lavender vanilla sound great.   Pumpkin bread or zucchini bread?  How about blueberry zucchini bread with a lemon glaze?    If you can do it with coconut or tigernut flour, sure.   I make specialty simple syrups. You can use them in teas or cocktails (and desserts).  How do you feel about a Hibiscus simple syrup? I use 2 ounce bottles for these so its just a fun amount.  Yeah!   Format for tea? e.g. teabag vs loose. Loose, please.   Do you like spooky themed tights? If so, what are your measurements?  Yes, please.  I'm a C/D I think.   Pls post your book wishlist!  My Amazon wishlist has some as well as my Goodreads account.   Would you like to receive a 2D collage art piece? What overall vibe would you be into? (spooky, autumnal, whimsical, eerie, lovely, occult, bizarre, smutty etc.?)  Spooky, eerie, occult, and whimsical would all be fun.   Do you like rocks/gemstone jewelry? Prefer polished/smooth rocks or raw/rough? Any favorite stones, rocks, colors that you'd like? I'm looking for onyx and hematite.  Bracelets or pendants would be fun.  For jewelry, I like polished, but I'm down for raw rocks.     Any interest in the August releases that got announced today?  A Summer Night, Angelica Trio, Ceres, Columns of the Temple and Empowering   Luvmilks seasonal goodies are out! What scents and formats appeal to you, my little pumpkin?  Pegasus sounds fun.  I'm open to format.   Would you like a Pyrex 4-cup Nightmare Before Christmas bowl with lid?   (Can also get Starwars and various Disney ones.)  Yes!   August Tea's fall sale starts tomorrow, 20% off everything on the site with code FALL20.  Is there anything you would like to try, my Pumpkin? https://august.la/ I would be open to the sampler.  I've never had anything from the company, so I'm interested to see how they do their teas.  Tropic of Capricorn looks delicious!      I've recently taken up embroidery, would you like a small (I embroider on 4" hoops) embroidered piece? What sort of design would you like? Sure!  Bats, cats, spiders, and other spooky items.   Do you wear nail polish, and if so, would you like some? What colors or finishes? I like the 10-free ones in dark, holographic colors or things with sparkles, like in emeralds or dark purples or even blacks.   I'm going to the farmer's market tomorrow, and there are lots of great vendors. Would you be interested in soap or chapstick or bath/body products?  Sure, would love chapstick or bath/body items.   Would you be interested in a tumbler like these? If so, what theme would you like it to be? Glitter or no glitter? What color do you want the liquid to be or would you prefer the blood drip look? I have too many cups, unfortunately.   How do you feel about ribbons?  Is there anything in particular you are looking for if you'd want some?  What about ribbon remnants?  Colors/textures?   If you can find cool, gothy ones or really baroque lace remnants, then yes!   Would you be interested in any skincare items?  Anything you would not want? I love masks, serums, and creams, but would need them to not have sulfates, phthalates, or parabens.     New question: Is anyone else interested in the latest Sphere & Sundry release? https://sphereandsundry.com/offerings/bpals-of-exalted-venus-ii/ Or other S&S offerings? I would love Squama (even decants), Mantle of Concealing Night, Muse's Aid, A Dewdrop World...any basically anything else from them!   Do you have any interest in trying my infused moonshine whiskey? I've been thinking of experimenting with autumn spices (cinnamon, nutmeg, clove) and maybe a chocolate chai.   I can't have alcohol right now.  *cries*   Any interest in spooky shape wax melts in your favorite candle scents? (What are your favorite candle scents?)  Yes!  I like ambered resins, fae forest blends, and things that smell like Cathouse.    How about lotion bars?  No thank you.   Bird and Blend tea just did their Autumn drop! Anything look good to you? https://www.birdandblendtea.us  (Also, if you're not a pumpkin person, I invite you to check out the rest of their offerings, which are always exceptional!)    I really want to try their pumpkin sticky chai.   Arcana Craves halloween drop! Anything catching your eye? https://arcanacraves.com/ Peaches Crave Forests sounds interesting, as does Pumpkins Crave Terror.  And I would 100% adore Holy Terror itself.  I tried an imp and was smitten!   I feel like with some of the witchy/seasonal stuff it might be helpful to know everyone's signs.  If you're interested in that kind of thing, what's your sign?  I'm Aquarius with Virgo Moon and Sagittarius Rising.   Would you like anything from The Pickety Witch? (I'm going to the Vegas Oddities and Curiosities Expo next weekend, and she's vending there, so it may not matter if an item is in stock or not on the website!) https://www.thepicketywitch.com/  I love the Trick-Or-Treat Kitty, Vampire Bat, Black Widow Collar (swoon!), Unicorn of the Forbidden Forest, along with the Tarot Earrings.   so these nail polishes keep showing up on my instagram and they are kinda vampy--do you wear polish and do any of these float your boat?  NOTE I have never worn Holo Taco stuff so cannot vouch for quality just the vibes are super witchy 🙂Violet Nightmares! https://www.holotaco.com/collections/dark-rainbow-collection   I have another new question! Favorite bands/artists? Perhaps you'd be interested in a DIY patch to sew onto your jacket/pants/bag or maybe pins or a sticker or anything DIY-ish?  Yes, OMG!  I need to work on my battle jacket.  I would love patches of Type O, Lebanon Hanover, She Past Away, Nine Inch Nails, God Module, Nox Novacula, Gogol Bordello, Gothsicles, Dracula Party.  Yeah, this is totally up my alley.   oooh I am reviewing my switch witch help answers from 2017 and was reminded of Lush--there used to be a big Lushie/BPALista crossover at one point.  Is that still the case?  If so dearest pumpkin are you a Lushie?  Is there anything from Lush you are coveting?  Their halloweenie stuff is out here: https://www.lushusa.com/halloween/?cgid=halloween&pmid=604&start=0&sz=28  Totally, Ghost in the Dark, Bat Art, Lord of Misrule anything, Bubble Lugosi, and Bath Mates.   Because clothing sizing is so notoriously random &&& my idea of cute may be entirely different from your cute... sock dreams?  yea or nay?  Anything in particular catch your eyes?   Oh yes!  Boho Crochet Net Tights, Deco Net Stockings with Attached Garter   I have been buying soap from https://rockytopsoap.com for at least a decade as they are unscented and less likely to affect which perfume I pull out.... I realize they are not colored and swirly and as pretty but they tend to be super hydrating and luxurious.  Do you have any interest in these?  Yes, anything from this company!   Nocturne Alchemy just dropped their Halloween 2022 limited collection! I am popping in here to see if anything would strike the fancy of my pumpkin? 😁 https://nocturnealchemy.com/collections/limited-collection/products/new-halloween-2022-limited-collection  Ugh, I would like to try the cupcakes or some of the gourmand ones.  I don't usually sample them myself, so I'd be interested in trying.   Here's a question... there's sooooooo many on here about tea but for my fellow coffee gals... do you prefer whole bean or ground??  if there's a choice how do you like your coffee ground??  No coffee.   Look at Cat Coven's site and tell me what you see that appeals - she is one of my favorite Halloweeny artists, and makes awesome things. I like supporting her work. https://www.catcoven.com/collections/new-arrivals   Are you interested in any art supplies? If so, what kinds and colours?
What are your fave smells for incense, and do you have a preference for format (cones, stick, loose without needing charcoal, loose that needs charcoal)?
Anything catch your eye from this super cool queer creepy-cute style UK artist? https://www.abprallen.co.uk/   Pls say more about your book preferences if you haven't already! Esp. regarding fiction.