MsLuker's BPALentine's Swap Answers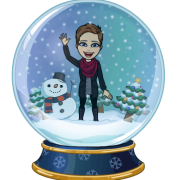 Entry posted by MsLuker ·
112 views
I'm new to swaps, and honestly very new to the forum and I keep thinking of things I should have added to my questionnaire! So I thought I'd take the lead of some other folks here and create a post where I could add the answers to the new questions that are popping up and all the things I *should have* originally included!
Me in a nutshell: Ravenclaw. Saggitarius. I'm a school librarian at a K-12 school in western MA, which means I love to read and I'm a big old nerd. My partner and I have two cats and three dogs - all Australian cattledogs or mixes thereof. We also foster for an Australian cattledog rescue association.
I love all things PINK (like the color, not the artist, though she's awesome too!) Side note: I used to hate pink. For years, I hated pink with a passion. And then one day I just...didn't hate it anymore. True story. 
See more below:
Household: 
Are there any pets/kids/partners you live with who would appreciate BPALentines considerations? Please give as much detail as you can to help out your Cupid
-I have a partner named Nicole. She is a dynamo of a realtor, always on the go. Together, we have two cats and 3 dogs. Our dogs are all Australian Cattledogs and we also foster for a cattledog rescue association. We're a bit obsessed with the breed! The doggos all enjoy snacks and toys for sure. The cats don't do much with snacks and toys as 1 cat is diabetic and the other is super geriatric.
Are you away at any period during the swap? 
-Yes, we'll be out of town from Feb 1-6
Are you okay to ship Intl (outside USA)?
-Yes
Do you have any allergies your sender should be aware of? 
 -Nope!
Something Snacky:
What are your favorite snacks? Salty or sweet?
-I like snack food of all kinds a little too much. I'm a sucker for a good peanut butter/chocolate combo. I also adore yogurt pretzels.
Types of snacks/flavors/textures to avoid?
-None
Coffee, tea, cocoa, etc?
-I am a coffee addict, especially dark roast. I have recently purchased a really good coffee grinder and a pour-over setup so my coffee snobbery can continue. As far as coffee flavors, I'm open to trying anything, but I prefer more subtle things in terms of flavored coffees - in other words I don't want a hit-you-over-the-head kind of flavoring. Bonus points if it's local to wherever you are. Triple bonus points if it furthers a good cause (like dog rescues or women in Appalachia)
As far as tea, I never really had time for it before. I drank too much coffee lol. However, I recently discovered a magnificent tea shop in my small town and that has changed the way I think about it. The shop is owned by a practicing witch and certified herbalist who grows many of her own ingredients. She can talk for hours about what is in each of the teas and what the ingredients do. It's fascinating. I've recently been having some stress-related insomnia and digestive problems, because pandemic, and she was able to recommend a tea that has really helped both issues. So in short, I'm fascinated!
Anything to specifically to AVOID? (veggie/vegan/GF/allergies/etc)
 -None
Something Smelly:
What are your favorite scents? 
-I dig florals and also foodie scents. (For reference, my favorite BPALS right now are Water of Notre Dame and Muddy Armadillo, which smells like dirt and chocolate). I also love amber and jasmine. I started a wishlist here that I will try to keep updating. I currently find myself searching for scents that are very evocative of lonely, windswept or stormy landscapes. Maybe it's a seasonal thing?
What scents should be avoided?
-I tend to avoid the musky, incense-y types. I'm not a patchouli girl, either. 
What sorts of scented products would be welcome?? What should be avoided?? (i.e. BPAL only vs. OCYL; soaps vs gels vs scrubs; lotions; candles vs wax tarts vs incense ... it ALL goes HERE) 
 -I'm open to trying just about anything, however our house only has a shower, no bathtub. I wish I could enjoy bubbles and bath bombs, but alas I can't. 
Something Snuggly:
Favorite sock brands or patterns? (please include sizing/height/etc)
-I tend toward the girly side of things and my favorite color is pink, but I also dig rainbows. I'm pretty tall at 5'9" so a medium to large size usually works. I have a thing for striped knee socks, but really anything nerdy and cute works too.
Any things to avoid? (scratchy wool, artificial fibers, tight knee highs?): 
-Wool makes me itchy, sadly.
What other sorts of things (besides socks) do you think of as "snuggly" which you'd be interested in receiving?
-Beanies or stocking caps, gloves or fingerless mitts. I have crazy, ridiculously curly hair, so I'm interested in trying out a satin-lined beanie at some point.
Something "Stationery":
Favorite book genres/authors: 
-I'm a school librarian, so I'm a giant book nerd. I read a ton of young adult books. I tend toward fantasy in both the YA and adult categories. Some of my favorite books of all time are The Night Circus, The Starless Sea (I actually re-discovered BPAL through the author's note in TSS. I think BPAL should do a collaboration with Erin Morgenstern. It would be epic!) Strange the Dreamer, and the Daughter of Smoke and Bone series. I am a sucker for Outlander and am currently listening to the newest book.
Least favorite genres/authors/anything (i.e., what would you really not want to receive in a book?): 
-I'm not big on horror or romance. 
Physical book vs. ebook? (please include ebook type if applicable) 
-Either one. I also do a ton of audiobooks on my commute.
If Physical book: New vs. used? 
-Either one is OK
Do you enjoy/collect stationery? (pens, papers, cards, etc) 
-Love it!
If so what sorts of things do you like/dislike? 
-Pens, gel pens, planner stickers, I'm really here for all of it.
Something Surprising:
Etsy wishlist that I'm in the process of updating, just for reference.
What are 3 things that you always appreciate receiving?
-Anything nerdy/cute, gift cards (I've never understood why some people say they're not a good gift!), and miniature items
Do you collect anything specific?
-Nothing specific
How do you feel about handmade goodies? 
-Perfectly lovely
Do you have any favorite Valentine's-themed goodies? 
-I actually like those conversation hearts candies. I know, I'm weird
If you were a vehicle, what vehicle would you be and why?
-A baby blue old school VW Beetle - NOT the remake version. I may be a little clunky and rattly, but I have my own quirky style.
Addendum questions:
So... Jewelry??
I'm enjoying exploring the meanings of gems and crystals right now. For example, I just saw an Etsy jeweler who used blue chalcedony for a necklace and had to look up it's meanings. I fell in love with the stone!

Types? Rings, bracelets, and necklaces are nice. I've pretty much given up on earrings right now due to constant mask-wearing. It just gets to be too much of a hassle. My favorite bracelets are relatively thin, such that I can wear several at a time. My favorite that I wear almost every day is a string of small blue and bronze (Ravenclaw represent!) beads that can be wrapped several times around my wrist. It came from a local jewelery company. 
I'd be interested in small and dainty stacking rings, too.
Sizes? 8 is a safe ring size - it fits on several of my fingers. 
Styles? generally more feminine 
Colors? I usually stay away from goldtones, tending toward silver. Pink is also a safe bet.
Would you be interested in anything from Ravenstone? Unsure at this time. I'll check it out. 
Do you have any interest in journals, planners, habit trackers, etc.? I have done quite a bit of planning! My current setup is a Happy Planner (regular size) hourly layout. I especially like the mix of function/organization and an everyday outlet for creativity that planning provides. 
Do you have a goodreads account or somewhere that tracks which books you've already read/own? Goodreads link!
Would you be interested in anything from https://snagtights.com/, and if so, what is your size?
Yes! I've actually been looking at these. Anything in the opaque tights section - size E. It's cold here in New England. Gotta keep the legs covered!
Are you interested in secondhand oracle/tarot decks?
Yes? I haven't even looked at cards, etc. in forever. I'm going through a huge transitional period in my life right now though and feeling like this might be an interesting tool for me.
Are you interested in ritual oils (e.g. Twilight Alchemy Lab stuff)? If so, what kind of intentions/magic resonate with you right now?
Yes, I've actually been looking at these. As I said, I'm going there are huge transitions afoot in my life right now, so anything that helps with clarity of vision, peace, good sleep, etc. 
Super specific, but pls note if you are a fan of Taylor Swift... 
Not too much. I don't dislike her. 
Are you into citrus/ fruity scents? I don't gravitate toward citrus and fruity, but I don't dislike it.
Which florals are a yes/no? Death notes? I can handle most florals - jasmine, rose, lilac are favorites.
Are you into Skincare/haircare? Sheet masks/cleansers/hair masks? False lashes? My hair is pretty picky and specific. It's curly and has it's own whole thing going on. As for skincare, anything made for dry and sensitive skin is welcome. I live in the northeast in the winter. Enough said.
Does honey work with your skin chem? Buttercream? Yes to both.
If you said "yes" to OCYL, which houses have you been dying to try? Which ones aren't compatible with your skin chem? Unsure. Pretty new to this whole thing, so I'm open to try just about anything.