Spring Cleaning Swap - 2018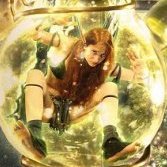 Entry posted by izile ·
766 views
In-Thread Bonus Questions:

Craft supplies: Between me and sis, we're all over the place. The things I don't have and could use would be the things I always forget about when I'm actually IN a shop, like a masking fluid for watercolor paintings, or add-ins for acrylics or even oils. I have tons of paints, but I never get the OTHER stuff most people use. Also, forgot to mention in my questionnaire. I was working on this one painting, and I was trying to find a paint pen, fine point, in a nice opaque white. Both Blick's I went to up here were sold out, and since Pearl Paint closed, I feel lost in the city's art supply world. Paint pens that I could use to finish details on paintings would be nice.

Fantasy Type Books: I'm all over it! Tolkien, Lewis, Gaiman, Pratchett, Moore, LOVE LOVE LOVE. If I don't know it, that's cool too. My old boss gave me a lesbian fantasy romance novel, totally something I'd NEVER pick up on my own, and I really enjoyed it! (more romance, less sex, and kinda like a badder-assed Sookie as a witch-lesbian). So, don't be afraid to throw me your old favorites. Also, don't care about paperback condition, as long as the last 5 pages of the story isn't missing, that'd suck.

Music: MP3s, I have an old zune, and mp3 player on my PC. - Please feel free to expand my horizons, EXCEPT, I -loathe- country music, and hardcore rap, so, go anywhere else, from Blackmore's Night to Opera, to George Crumb and Kronos Quartet, to Finnish Death Metal, and J-Pop, and everywhere inbetween - even blue grass is fine, just NO Country!

are you interested in preloved tees like BPTP ones? If so, styles and size?
More than likely, yes! I have a (it has a tree on it?) tissue tee I adore, and standard bella babydoll tee for Candles Moon, a "Nice" tee and a Krampus tee. I really like their tees. I'm a size XS or Small (somewhat depends on which cut of shirt and from what producers. For the old bella babydolls, probably a Small, but the newer/thinner (or if anyone has an old tissue tee they don't want anymore) an XS is probably better.

Do you have a need for costuming pieces? Anything specific you'd like/ not like?
Nothing I can particularly think of now. I mean, I could use a better chemise for ren faire weekends. I think mine was actually a child's, considering it barely comes down to the top of my hip, and the sleeves are barely long enough to tuck into the top of my bracers. Othrewise, I have ears, bracers, chain belt... if on a weird fluke anyone has kinda rennie style sandals in a size 7.5, that would be amazing, but seems highly unlikely.

Interested in vinyl art toys (kid robot & such)?
I really try and avoid random pointless STUFF, I just don't have the room for it... that said, I have a deep weakness for Unicornos from Tokidoki. I already have quite a few. Would love to find Fumo, Bambu, Caramelo, Sakura, Yuki, Sirena, Honeybee, Prisma, Diamante, Hanako, Miso, Fuego, Galactica, Gaia, Summer, Adios & Caramelo.... (I'm not very good at my personal minimalism when it comes to pony-things.)

I have collected art faster than I can frame it. Anyone interested in prints from Independant artists or do you have a specific decorating scheme happening in the house? (Which is, of course, ok)
I generally love independent art, but I don't have a lot of wall space left at this point, so I should probably pass.

Do you use K-Cups and would you like a variety of coffee/tea? - no K cups

How do you feel about cosmetic samples as long as they're "clean?"
I'd love getting samples! Generally I'm super pale (and pink! or "clear and full of blood"), sensitive skin, love any anti-aging stuff, and I love trying out hair products, though I'm SUPER picky because I have long hair (trying to grow longer, always longer!) .

Do you have any use for holiday/Christmas ornaments? If so, what themes/styles do you prefer? - no thanks

Buying fandom related and "cute" items:
I try to avoid - with the exception of a very few - IF THEY ARE VERY SMALL (I have an old printer's drawer hanging on my wall now, that gives me a place to put *TINY* things, so.. if you found something that was around 1-1.5 inches tall, it'd fit on that. I like Firefly/Serenity, MLP, LOTR, harry potter universe stuff could be cute, too - but the key is *TINY*
Would you like to receive silver rings that are worn but still look like new? If so: what ringsize do you wear? And any specific styles that you like?
Or silver earrings (brandnew)?
No earrings, I don't have pierced ears (unless someone wants to get rid of some vintage rhinestone screw backs! I collect those!), and rings, I don't wear a lot of jewelry, but I do like tiny sterling silver delicate jewelry, and when it starts warming up, I'd be more likely to wear rings when I won't need gloves. I think my fingers range between a 6 and a 7, depending on which finger it is.
Do you like animals? If so: any favorites?
I do. I love horses (unicorns and pegasi) most of all, but also adore dragons, griffons, and in the "real world" (ha), wolves, foxes, cats, and the occasional raven, hawk, or owl. (bonus points for also fitting into the aforementioned "TINY" spectrum.

Fragrance oils other than BPAL: ​ only essential oils please (and I have mint and sweet orange already)

​Jewelry making supplies: ​probably not, I have a hoard of gemstones (for prong or bezel setting), but haven't been making jewelry a lot this past couple of years. It seems unlikely someone would be wanting to get rid of the kind of jewelry stuff I could use, as it'd be so easy to resell for decent money. And I don't do beading or stuff like that.

Lularoe Leggings? no thanks

Could you use Melitta filters for coffee? pass

Jewelry making addendum: Gemstones? I do have a literal hoard of gemstones (cut, polished, semi-precious, mostly garnet, amethyst, some quartz, topaz, mostly small pieces now) - does anyone do the kind of jewelry making where they'd be able to use something like that? Good to learn on in a jewelry making classes.

Cookbooks (or Magazine back issues) anyone? - Another thing I hoard, and I'm trying to clean up my stash. And if yes, do you have a kind you'd like or not like?
Personally, I no longer need anything basic or beginner. But I'd be open to specialized or weird cookbooks like the cookbook from Hannibal (the tv show), (I LOVE my Feast of Thrones cookbook!) or specialty ones like ones on Japanese food, or something more specific like a little book of ramen or pho. (I don't have any non-Western European/US cookbooks that aren't fantasy worlds). I will also take old/used food magazine issues (I subscribe to Bon Appetit, so not them), but I will take old back issues happily, even in somewhat ratty condition. (I have a problem, I really do.)

Table cloths, placemats, runners, napkins, dish towels - no thanks

BPAL storage boxes - I don't really need any more boxes, if anyone had extra of those spent ammo cases that fit imps perfectly, I always need more of those

5 strange things, off the top of your head that you need?
silicon coated wire whisk
new cheese cloth
new batch of super-sculpy (any amount really)
silicon mold for filled chocolates
matcha green tea powder

Travel books. - Guatemala? It's looking likely I'll have a work trip there in June. I know nothing.

Nightlight. - no thanks

Could you use any spices, herbs, or salt? Sure, I don't think I've got any dill weed or fennel seed, no curry powders, dried chilies, and I believe I'm out of nice dried thyme (I normally dry my own, but I messed up my last batch right before winter and had to throw it out :-( )

What about reusable totes or bags? I am overflowing, so no thanks.

Discworld books: YES! My collection is a bit spotty, I'm up to Wyrd Sisters (haven't started it yet, and it's a library book, so would totally take a paperback copy). But I already have (ahead of the game thanks to an auction lot my Mom won): soul music, eric, thud, lords and ladies, carpe jugulum, unseen academicals, raising steam, and the discworld companion

Least favorite scent? myrrh, musks, resins, spices, incense, foodie

Nail polish colors? I have a pretty epic stash, and have been doing more nail wraps as time goes by. I think I have a few BPTP examples on my w/l.

Bathtub? Bubble Bar? I do have a bathtub, but I don't use it often in the winter, because there's a window in the bath and it makes it super drafty, but once it warms up a bit. I also do lots of foot tub soaks, so I could use it!

how do you feel about knitted things?? More specifically washcloths or scarves?? Colors you love/hate? And fibers you like or don't like?? I have plenty of knitted things, so I'm probably good. But it's a good place to remind that I don't like synthetic fibers, I try and stay away from polyester, acrylic, and rayon (unless it's certified green bamboo rayon - gotta protect the orangutans!) and I'm all about strong colors, but loathe greys/beiges/neutrals

Do you have a preference for more fitted women's style tees, or are you fine with a basic crew neck?
I prefer a more fitted women's style tees, v-necks preferred, but not a deal breaker otherwise.

If you were given a choice of a top that was navy and tan stripe vs a more cobalt blue base with a jewel tone stained glass pattern, does one or the other sound preferable? Neither? Both?
No stripes, no tan. Stained glass pattern sounds pretty, though, and love jewel tones.

Are you okay with receiving a book that is completely within your areas of interest, but that is in the middle of a series? (Assume a standalone storyline that might reference events in prior books but that is not dependent on them.)
Please no. I approach series very carefully (I was "traumatized" as a kid by only being allowed to buy the first Secret of the Unicorn Queen book, loved it, and it was promptly discontinued. 30-cough-years later, I still can't get book #6 to finish the series without paying an outrageous amount (so I won't do it). And I lived in fear of Stephen King never finishing the Dark Tower the whole while I read it.
Would you be interested in graphic novels within your areas of interest?
Yes! Love graphic novels! I have the last Sandman one, and have kept up with Pretty Deadly trades and Injection.

Would you be interested in new or very gently worn shoes, if so, what size?
Possibly? It seems unlikely they'd fit. I have very narrow feet with a very high arch, in sandals I can wear a 7.5, sometimes a 7, rarely an 8, and in boots almost always an 8, and other closed-toe shoes varies between 7.5 to 8, rarely 8.5 - shoes are crazy man.

Do you enjoy Tokidoki?
Unicornos, I have the list/first answer in my link

Would you like fabric with one of your favorite fandom on it but chibi/cute style characters?
No thanks, sis does the fabric arts, not me.

I have a bunch of baking ingredients in my pantry that need to be used up. Would you be interested in receiving any baked goods (like cookies or scones)? if they're gluten free
No thanks, also a baker (but not gluten-free)

Any interest in books about learning other languages? maybe? Been trying Duolingo with Japanese, but it's a beta, so a book might help.

Any interest in reading poetry or plays? I can be into poetry if it's funny, quirky, or has a historical cultural twist to it (Southern or Irish/Scottish mostly)

Do you enjoy audiobooks? Not really

Any of this year's Lupers you still need/want to try? Check my wishlist. I *STILL* haven't gotten any of my decants yet, so I'm kinda getting frustrated over here. There were so many in this great update, I couldn't dare do blind buys, but last I checked the website, my decanter hasn't even gotten a CNS yet!

Could you use any tealights?
Sure!

I have an extra book light. Could you use one? Yes!

Any BPTP swag you would like or are in search of (stickers, bumper stickers, pins, etc.)? I always like stickers and buttons, but I've got a pretty good stash.

Would you like any unused tins for tea storage? I'm good, thanks

Would you be happy to receive homemade jams/jellies?
Yes! I hate how commercial jellies and jams put so much crap in there - I like almost all jams, not too big on marmalade, but my favorites are blackberry, plum, and (dare I dream... muscadine/scuppernong)

Gardening stuff and or seeds?? yay or nay? If yes, whats your climate/zone?
Sure! 7b

Yay or nay? accessory scarves? yknow, the sheer or silky kind? colors, length?
no thanks, I never know how to wear them.

Tabletop gaming stuff? Board games? Yay or Nay
I do like games.. why not!