First Halloweenies Haul Reviews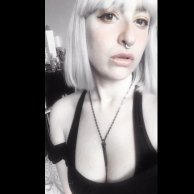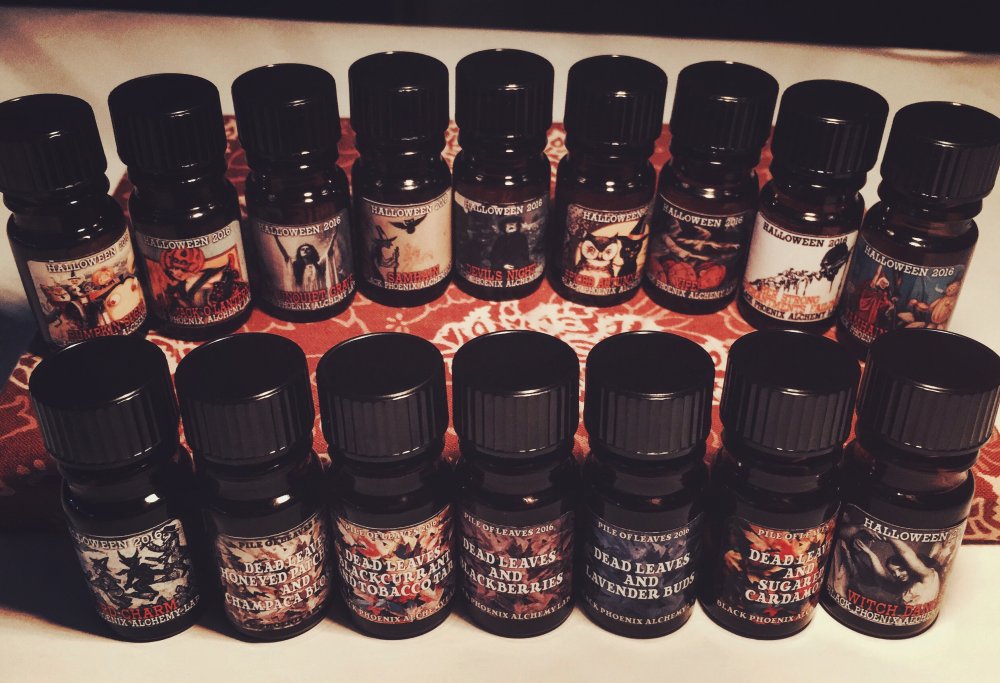 BPAL reviews
Pumpkin Sugar- amazing! I can almost taste caramelised pumpkin and sugar! Like if you were to make pumpkin brittle. The throw on this is impressive and I dabbed a touch on last night and 6.5 hrs later I could still smell it, if a bit fainter.
Spiced Autumn Cider- wet: reminds me of going to an orchard backup home and getting fresh mulled Cider from the farm shop. Delicious! Not too sweet (but I get the maple at the very top) and spicy in all the right ways. Very iconically autumnal in a foody/drinkie kind of way.
Dry: the spices are coming through beautifully and I still get the apple, it's the bottom of the pot of mulled cider.
Devil's Night 2016 - i definitely smell the fires in the distance and the sooty musk. As it dries it sweetens to an almost autumn powder if that makes any sense.
Yipe!- in the bottle, it's sugary sweet syrupy. Wet- like a melted ice lolly or melted black cherry sweet. I want to eat my arm. As it dries it darkens and lifts to a less syrupy smell to sweet fruit tea or incense.
Third Charm 2016- in the bottle- very musky patchouli. Wet- It smells like a cast spell. Very magical! The cedar really brings all the earthy smells together and binds them nicely like a wrapped smudging stick. As it dries it warms to a beautiful wood smell and like you walked into a witchy/crystal shop. Like boxes on boxes of incense.
Fizzy Jack O'Lantern 2016- in the bottle: a little soapy almost. I can smell the lemon and a slight pumpkin with lots of "fizziness". Wet- lemon gin and pumpkin. Still a little soapy. Maybe it's a "clean" scent rather than "soapy." This isn't unpleasant, just not pumpkin-y enough. Dry- ok, here's the pumpkin! And the gin! The lemon and soapyness has subsided to reveal something I definitely want to drink on a night out.
Her Strong Enchantments Failing- cold, purple, incense. Very sweet. Wet- I can smell the blackberry very prominently. But still incense is strong at the base. Slightly more floral as it dries. It still smells "purple". That sounds may be because of the description, but if you know what a purple popsicle smells like, that's the top note. I totally smell the pale rage. Somehow colour and visual descriptions work with this perfume. It's fruity, but not. Ha! I may need to take a break from smelling for a few hours.
The Unquiet Grave 2016- in the bottle: cold, floral, clean wet: very clean scent and I would describe as white. Absolutely get the frozen roses, white sandalwood at first. As it warms, the frankincense comes through. I smell as if I'm in the Ice Garden from The Night Circus. Dry: more of the gardenia is coming through and I think I can smell the orchid. Skirting the edge of soapy but not offensively.
Dead Leaves, Blackcurrant, and Tobacco Tar- in the bottle: like crushed wet leaves you can smell from an open window!! Love it so far! Wet: Very organic smelling, with a hint of musk. I'm guessing the muskiness is the lab's dead leaf note. This seems to be the common theme between them. I bought everything blind and this is my first Halloween purchase so sorry if any of this differs from veterans of these scents. Dry: I get the black currant! Actually I am reminded of Lush's twilight bath bomb (but just the dust), maybe thrown into wet leaves...for whatever reason. I am in LOVE! This is a sure keeper!
Samhnainophobia 2016- in the bottle: dark and boozy from the vetiver and I definitely get the bourbon geranium. Like a dark Halloween night after a few days of rain. Wet: beautiful and dark! Not sickly dark like I was expecting. Very smoky in the best way possible. Dry: even smoker but still retaining a slight sweetness to its dark base.
Dead Leaves and Sugared Cardamom- wet: musky, dark. The cardamom is coming through beautifully. This is very pleasant. As the muskiness fades, I can smell the leaves a bit more. As it dries some spice emerges and gets very sweet on me! This is a slow burner on me and I'm glad I've given this one some patience. It was almost headachey on my the first time I tried it but the drier it becomes the more I am falling in love.
Dead Leaves and Lavender Buds- in the bottle: very fresh French lavender with a hint of muskiness. Wet: crushed lavender flowers and the dead leaves are coming through as well. I feel like if you had a lavender field surrounded by trees, this is what the edge would smell like in autumn after a rain. Dry: Like I'm stomping through live wet lavender and raking leaves! So happy with this one!!
Witch Dance 2016- in the bottle: sweet and booze. Wet: beautiful floral bourbon or liqueur. This is dark floral and earthy. Very sultry and pretty. I am wanting it to be stronger as it dries. My skin seems to be eating everything I put on it. I need this one to age and strengthen. I really like it! Just needs some throwing and staying power on me. So gorgeous though. Glad I bought it!
Dead Leaves, Honeyed Patchouli, Champaca Blossom- in the bottle: fresh and outdoorsy. Not sweet fresh. Earthy fresh. The sweeter patchouli really compliment the dead leaves very well and the champaca blossom lifts the whole scent. Wet- this is the one that I feel best represents my childhood memory of dead leaves in piles while my grandfather raked them into mountains for me to jump into. Dry- even more lifted and sweet. The floral note is more pronounced and still beautiful. The honeyed patchouli is so lovely at this point. Another winner!!
Dead Leaves and Blackberries- in the bottle: sweet and syrupy. The musky dead leaves is the top note. Not super close, but I feel like if you like Yipe! you'll like this one. Wet: the dead leaves scent is a little more pronounced but still getting lots of the sweet blackberry. Very pleasant. Dry: even sweeter. Throwing a bit better now. I really like this one! Not overly sweet. Just enough.
Samhain 2016- in the bottle: like I'm walking through a damp wood just like the description. Wet: the fir is coming through nicely. The black patchouli is my favourite of all the patchoulis so far. This is essential autumn. So my jam. Really wish it was stronger. Dry: even more fantastic. Beautifully sweet autumn earthy. Only wish the throw had more beef to it. My skin eats this up. I hope this ages into something precious. Love!