2021 12 Days of Christmas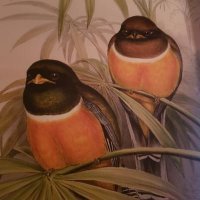 If you were down with knitted or crocheted items:
do you prefer a wearable or amigarumi? If wearable, is there something you'd really like? If amigarumi anything you love?
ooo maybe a penguin or an alpaca
Is there anything you forgot to put on your Qs you wish you had?
hmmm not that I can think of!
Teeturtle is having one of their megasales - any tshirts, or whatever, that strike your fancy? Size/fit?
One of the reading themed ones, ha! Unisex small

What are some examples of decorations you would enjoy? 
Hmmm... stuff for a dinner party might be nice and useful. Fancy drinkware and plates,  serving utensils, christmas crackers. I love candles esp. during this time

Is there any kind of accessory or product you'd want for your hair?
Silky scrunchies. I sometimes put my hair up in a bun, something for that?

What is your jewelry style? 
I like big rings (size 5.5 to 6.5) and dangling necklaces! Love gothy pendants and 80s style stuff.

Are you interested in fandom themed items based on the movies/shows you're into?
OMG yes. I am obsessed with Hannibal (as you may know), but I also really like Midsommar. I love handmade fanart and fan crafts

Are you interested in spicy sauces/jams etc? 
YES. Love spicy and can definitely use some more hot sauces! I'm running low

Are you interested in Thai snacks? e.g. Thai brand crisps, wafer roll type things, savoury small crackers? 
YES, that sounds amazing. The crisps in particular

I make light-weight yarn-and-silk-ribbon hair falls. Would you be interested in getting some?
OooO I think I have an idea for where I will wear these! I'll try to go to Wasteland Weekend next year so I would LOVE something for that!
UPDATE: also, I would love to go to another event of the organizers, https://www.neotropolis.com/ which is Cyberpunk themed so some hairfalls (i looooove neon green/yellow) would be PERFECT OMG
What is the best book you've read recently?
ha i missed this question! I recently read My Sister the Serial Killer and loooooved it! I like tight writing with vivid characters that's on the darker side. I also really loved The Ladder to the Sky, about a self-centered but psychologically empty writer who gets more and more twisted in his search for stories and fame. 
I actively support Defenders of Wildlife and am curious if any of these would be of interest?   https://gifts.defenders.org/wildlife-adoptions?price=20-30
OMG the penguin 100%. For my Husband Paul
What are your favorite animals or mythical creatures? 
Hmmm I just got a Betta fish so a betta? I also love vampires ha
Do you like adult coloring books at all and if so do any of the ones from this store strike your fancy?
those look so cool but I don't do coloring books sorry!
how do you feel about solid perfumes? 
Sure, I'll try!
Is there anything in particular you'd want from the UK? 
I love almost anything UK! Ooo some of those ah, royal wedding souvenirs (like a teacup or a tea tin) of Harry and Megan? The tackier the better, haaaa
Are you ok with paper books at all?
yes, I prefer it! my ereading is erotic fanfiction hahaaaaaa
Do you already have expansion packs for your fave card games?
hmm... for cards against humanity i've got a LOT of expansion packs but! one of the things i've been searching for are expansions to Joking Hazard (I have none). 
Are you interested in perfume samples/decants, or only full sizes?
i prefer full sizes (I love the art on them), but i looooove to smell everything! 
Are you interested in oracle decks?
oh yes! 
How about wax melts?
no, I don't have a warmer and I'm not that interested! i love the flame bwahahaha
catnip?
I've got no cats, sorry!