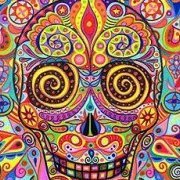 Entry posted by BuxomM ·
110 views
Updated 10-27-19
9/18/19
 
Would you like anything from Future Primitive? (It's fine to mention OOS things) https://futureprimitivesoap.co.uk/
***Jim nightshade soap
Nutcracker bubbling scrub
Pumpkin head soap
Spiced strudel soap***
Does anyone have a favorite horror movie that they love? Need a copy/DVD of?
***Not really into horror***
Do you like smallish knitted stuff (hats, fingerless mittens, scarves, toys, etc. -- be specific!)?
***All the above. I'd love scarves or a knit bat, skull/skeleton, or unicorn***
Do any of these knitted items appeal to you?
***Hat, mittens, or scarves***
How do you feel about thrift store finds (assuming they're in good condition and have been thoroughly cleaned before shipping)?
***Love them

 ***
9/20/19
I may have bought several full size Rituel de Fille makeup items in a frenzy over their whole vibe. If I tested something once or twice (and it can be sanitized), would you be interested?  ***My face is super oily but anything mattifying***
Are you interested in trying different skincare products from higher end, clean brands?
***Anything that helps or doesn't contribute to oil***
Any interest in anything from Torrid, noting their "fangirl" and Halloween collections are updated? 
*** love torrid, just bought a black winged dress for Halloween. Hogwarts sleep tunic, size 2, hogwarts tote, Batman costume tee, ***
What on the following list would you like to receive something related to (or have something donated to in your and Joni's honor?)
·         animal rescue
·         pie
·         dogs
·         bears
·         turtles
·         inappropriate candies (either in shape or in contents—ex., boozy candies, creatively shaped peanut brittle…)
***any of the above pies, bears, or inappropriate candies***
I'll be going to Seattle, London and Paris during this round- anything you'd love to have from any of these locations?
***postcards, tea, chocolate, stickers, stationary ***
Is there anything you would particularly like from Japan? Stationary, bento supplies, a particular snack, etc. The fall flavors for kitkats this year are Chestnut, Sweet Potato and Apple Pie.
***ooo stationary, stickers, & kitkats***
9/22/19
Thinking about really good natural food stores like Natural Grocers or Whole Foods, if you could have ANY bath and beauty or body care items, what would you love?
*** foodie soap, sugar scrub, lotion, lip balm, small tubes of hand soap for work***
Also what kind of treats, snacks, foods, condiments, bulk items, teas, housewares from the same natural food stores would you love?
*** dried fruit, pistachio & macadamia nuts, terra chips, veggie chips.***
Also, are there any particular sustainable kitchen or household items you would love to receive?
*** measuring cups & spoons***
9/23/19
Did anything catch your eye from the Liliths?
*** birthday surprise*** 
Would you like anything from Lush?
*** Honey I washed the kids shower gel, body spray, scrubee scrub ***
9/26/19
Is there anything kind of weird and niche about which you feel this way, fellow witchees?  
***Geodes and sugar skulls***
Kickstarter (and similar):  Any thoughts, witches? 
***havent looked recently***
9/28/19
Do you have an Etsy/Goodreads/Amazon or anything else wishlist you'd like to share?
***its in my blog and out of date, but still some good ideas***
And what's your preferred wrist/necklace size?
***On the questionnaire ***
Does anything from Bird & Blend take your fancy?
**carrot cake tea bags, gingerbread chair teabags, tea infuser sacs***
Knitting questions have have been asked, but how about wash cloths, anyone need any?  What colors??  
***Black  thin ones***
 is there anything from World Market that tickles your fancy? 
***Sugar skull/day of the dead, pumpkin cookie, pumpkin cocoa***
There's a special thing happening over at Rituel de Fille this weekend, where some gorgeous makeup items are coming back for just a couple of days. I'll be placing an order Sunday or Monday- anything that might strike your fancy, either from the special sale or from the site in general? (https://ritueldefille.com)
***my face is oily so most things don't last, I'll try mattifying things, matte lip stuff or eyeliners.***
How do you feel about tarot or oracle decks?  Would you be interested in any (for artwork or for mystical purposes)?  New or used?
***Sure. I regret not buying one while in Salem. I have a standard tarot deck, but I don't read cards. I was gifted a how to book in a previous round, by bard. ***
Would pigment samples from companies like M.A.C. or Notoriously Morbid tickle your fancy? If so, what colors catch you eye?
***Sure, not yellow, orange, or green(yes to black, red, pink, purple, white, dark and light shades, matte and glittery.)***
9/30/19
do you have a favourite quote?
***(I'm blanking)
survivor
the grass is greener where you water it***
How do you feel about spicy foods, and where on the Scoville scale do you hit your limit?
***I prefer mild, a bit of heat but not enough to linger and kill taste***
 
How do you feel about coloring books, especially those pertaining to a personal interest or fandom?
***love it***
10/1/19
A few questions have been asked about knitted items--are crocheted equivalents acceptable?  (crocheted fingerless gloves, shawls, etc.)  
Any fiber issues?
***sure, no fiber issues.***
About the Weenies: please list what you've bought or are definitely purchasing for yourself *as well as* what you would like to possibly receive from someone else! 
***would like samples of Apple sugar, dark pumpkin mead,  pistachio pumpkin truffle, ***
Dear Witchee, are you at all boozy?  Anywhere between hard cider to straight whisk(e)y?  And any interest in the "unusual" stuff? (unusual as in non-mainstream, local craft ciders or meads, regional fruit wines, experiments from local distilleries, etc)
***sour beer & cider, moscato, ginger beer, tequila rose, basically anything sweet***
10/2/19
Nail Polish: Do you need or want some?  If so, what colors and brands are you interested in? 
***clear top coat, glitter multi/holographic***
 
Does anyone else do nail wraps?
***dont know what it is, the stickers? No**
What about postcards?
***love em***
 Is anyone interested in anything from the Nocturne Alchemy Halloween release (or, presumably, anything else from the site)?
***Love NA pumpkin 23 & 25, 26, 27, caramel apple cotton candy, spook show, owloween, candied pumpkin pie, pineapple punch***
How do you feel about salt? I don't mean, like, salted nuts or potato chips. I mean straight-up salt, like alder-smoked finishing salt or Hana Flake sea salt. 
***I don't think I've tried either, I'm a heathen with a simple palate.***
10/3/19
I am infamous for baking (shortbreads savory and sweet, poundcake, various cookies and bars), butter caramels (flavored or plain), and catnip.  Are any of these relevant to you or your household?
***of course, I have a wicked sweet tooth, love caramel, red velvet, white choco macadamia cookies***
Do you like to cook and do you need/want any spices for such pursuits?
***i don't do much cooking these days, but welcome spices to sprinkle on hot chocolate or finished foods***
Would you wear any of these? 
Fern , Nuada, Manannan, Duleek Abbey  or an infinity scarf or tube cowl tall enough for a hood (like this scarf or this cowl for shape example)?
***sure, they're all nice but I love the duleek abbey!***
,Do you have any utilitarian needs for everyday life? Things that would help or that you've been needing or wanting for work or whatever?
***I don't think so, showercap, wall file organizer***
What kind of vegan snacks do you like? And vegan chocolate...favorites?
***ill try***
10/4/19
 How would you describe your crafting style? Whimsical & Cute?  Elegantly modern?  Totally Traditional?
***cute  and weird***
10/6/19
So....we are about to process a metric f*ton of green tomato relish, which is basically bread and butter pickles but with sliced green cherry tomatoes.  Is this relevant to any witchees?
***sounds yummy***
How do you celebrate Halloween/Samhain?  Do you dress up?  Would you like something for your costume?  And am I the only person left on the planet who wears socks?
***dress up for work, have torrid black winged dress, need a black/dark flower fairy crown. Love passing out candy but we don't get trick or treaters, maybe fetish and fantasy ball weekend before***
10/7/19
Are you interested in anything from Art Of Tea or Adagio Teas?
***love adagio, cream black, green***

I make light-weight hairfalls, doll-style, using a variety of fun stuff, like ribbons, lace and soft batting. Would you be interested in receiving a set in the colors of your choosing?
***Sure, black ... so I can wear with different things***
And a quick question here--I'm going to this amazing looking event on Saturday--does my witchee see anything they might be interested in?  https://www.facebook.com/events/903999316607440/ (the Oddities Market)
***skull things***
10/8/19
How do you feel about enamel pins?  Love them, hate them, slightly interested, totally indifferent?
***like them, I keep them on my college pennant ***
———————————————
10/10/19
what is your T-shirt/shirt of choice Size?
V neck, 2xl 18/20 (women's)
10/11/2019
OCTOBER LUNACY!  I know turn around time is unlikely, but just saying (JUST SAYING), dear Witchee, did anything catch your eye?
https://archaichoney.com/bloodmoonbotanica  (Britton used to run Haus of Gloi.)  Witchee, are you interested in any kinds of things from the Blood Moon Botanica update?
MOON DEW (will have a presale should it sell out)
HIGH MOUNTAIN ARNICA OIL
SAINT JOHNS WORT OIL
CALMING ELIXIR
FIRELIGHT TURKEY TAIL TINCTURE
YARROW ALDER HEALING SALVE
DEEP FOREST OIL
PEACH LEAF ELIXIR
DRAWING SALVE
LINDEN & CALIFORNIA POPPY ELIXIR
ENGLISH DAISY FLOWER ESSENCE

***Im not sure how they'd work with my oily skin, but I'm open to being enabled***
also I took some beading classes and have been making bracelets, necklaces, and earrings.  Would you be interested in any?  If so, how big is your wrist or how long would you like your bracelet?  Any preferred styles of beads?
ideally something mainly black so I can wear it with lots of things
——————-
10-16
10/13/19
If I was to donate to an animal rescue on your behalf as the "lucyboo" component of this swap, is there one in particular that you would choose?
No preference 
10/15/19
What is your very favorite Halloween candy? If you don't have one/don't do candy, what's a seasonal treat you love?
***Caramel apples, pumpkin reeses, flavored hot chocolate, apple cider***
I just got an email from Lush that their Christmas stuff is now up online! anything you might like? 
cookie dough scrub
snowflake lotion
——————//////
10/18/19
If you were my witchee, would you enjoy home made (canned) preserves?  I'm going home to Can All The Things & I'm thinking some bananas foster butter/sauce might be a nifty thing for you.
***ooooo that sounds fantastic, all things canned or pickled or sweet ***
10/19/19
I am in Las Vegas is there anything you would want from here?
*** Freeds red velvet cake, a latte from sambalatte are recommended ***